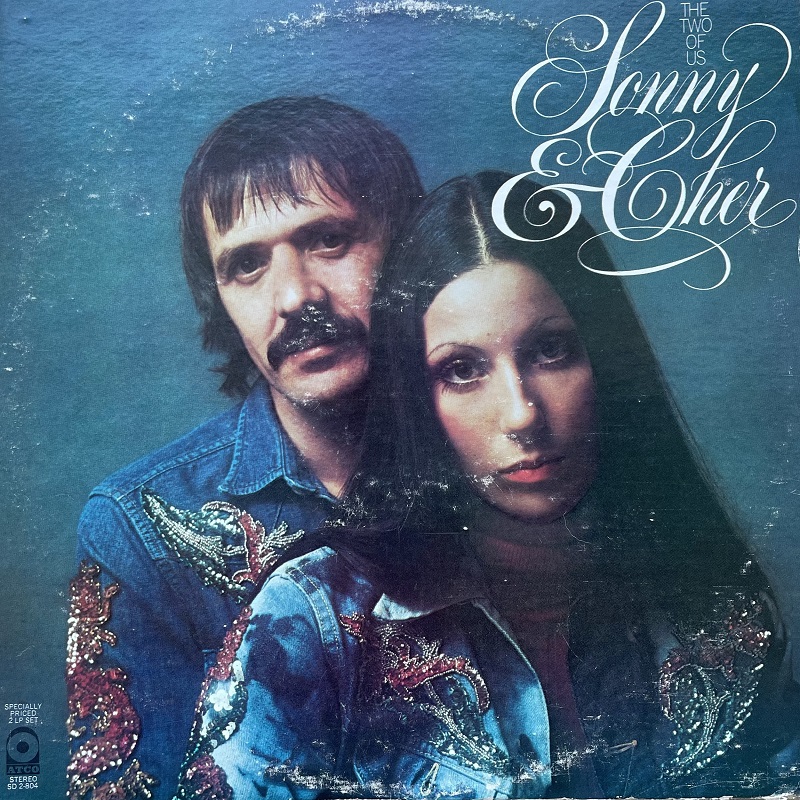 Garage Sale Vinyl: Sonny & Cher
The Two of Us / Atco Records / 1972
by Christopher Long
From their retro hippie hairdos to their vintage funky fashions to their impressive string of timeless hits, their authentic brand made for a perfect Polaroid of the tuned-in 1960s scene. However, their top-rated TV variety show in the 1970s made the duo a true pop culture icon. Heck, even the groovy young people in today's less-than-groovy world know the names Sonny & Cher.
Simply put, they checked all my boxes. As a pop-crazed kid in those days, Sonny Bono's songs scratched my itch, while Cher would continue fueling my tissue-tossing teenage frustrations. Don't come in, Mom! I'm… studying!
So when the GF spotted an LP copy of The Two of Us recently down at our local flea market, I was pretty psyched, as my personal copy had gone MIA decades ago. Yet, despite our shared enthusiasm over discovering this treasure, the record had been "well-loved" since its (likely) original 1972 purchase date — and we were NOT gonna pay the absurd $8 asking price. Upon flashing her ever-effective feminine wink-and-a-smile, the GF seduced the vendor down to $5 — which still was WAY more than I'm typically willing to pay for "garage sale" vinyl, but it was a double record. Also, old Cher album cover pics still prove useful. Old habits die hard, you know.
Produced by Bono, the 24-track, two-record compilation is a (near) Xerox collision of their 1965 debut album, Look at Us, and their 1967 sophomore set, In Case You're In Love. Featuring five of the duo's 11 Top 40 hits, The Two of Us serves (arguably) as the definitive Sonny & Cher collection.
"I Got You Babe" remains ageless, as cute and cozy as ever, while "The Beat Goes On" still packs maximum punch due largely to the brutality of legendary Wrecking Crew bassist Carol Kaye. Even such (slightly) lesser-known Bono-penned hits as "Baby Don't Go" and "Just You" still zing.
Seemingly at gunpoint, Bono's Phil Spector-inspired production forces the record to pop 'til the cops show up. It also boasts a bounty of shiny highlights from outside writers. The 1955 classic "Unchained Melody" was covered famously by the Righteous Brothers in 1965, while "Then He Kissed Me" was covered infamously by KISS (with a pronoun adjustment) in 1977. Covered by many artists over the years, the Carole Bayer Sager / Toni Wine tune "Groovy Kind of Love" and the Smokey Robinson staple "You've Really Got a Hold on Me" both are super-tall standouts.
Whether served as a '70s compilation or sliced up as '60s singles, these songs still feel good — especially on warm, crackly vinyl. Decades later, Cher's show-biz blueprint continues to inform up-and-coming superstars, while Bono's stylistic DNA can be found smeared across the work of many current chart-busting songwriters. The beat goes on, indeed.
(4/5) ⭐ ⭐ ⭐ ⭐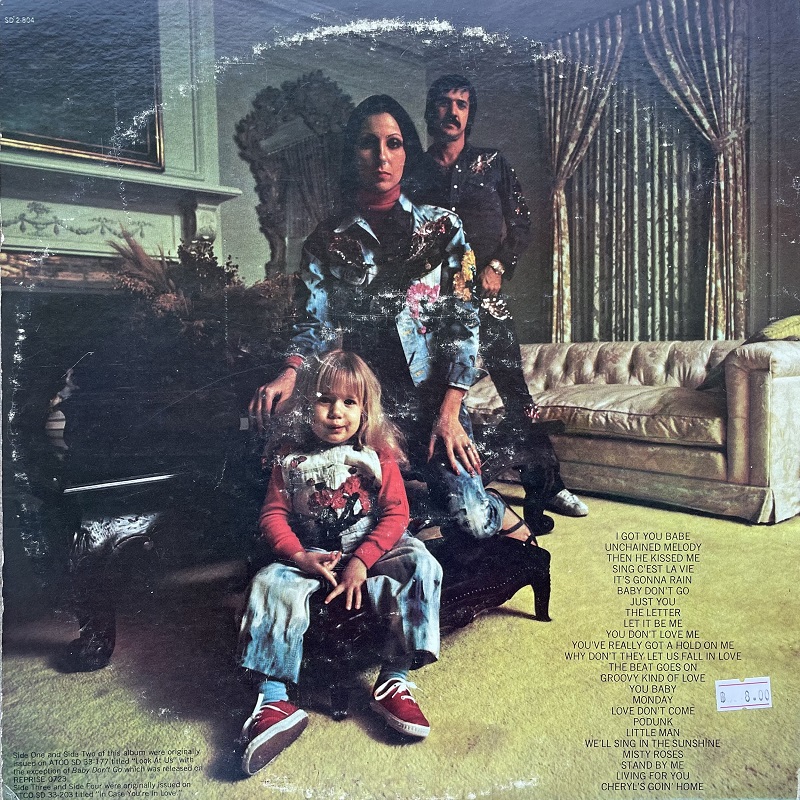 The Two of Us Track List
SIDE ONE
I Got You Babe (Bono) 3:09
Unchained Melody (Zaret, North) 3:48
Then He Kissed Me (Spector, Greenwich, Barry) 2:51
Sing C'est La Vie (Bono, Green, Stone) 3:37
It's Gonna Rain (Bono) 2:23
Baby Don't Go (Bono) 3:05
SIDE TWO
Just You (Bono) 3:36
The Letter (Harrys, Terry) 2:09
Let It Be Me (Bécaud, Curtis, Delanoë) 2:25
You Don't Love Me (Raye) 2:32
You've Really Got a Hold on Me (Robinson) 2:24
Why Don't They Let Us Fall in Love (Spector, Greenwich, Barry) 2:29
SIDE THREE
The Beat Goes On (Bono) 3:23
Groovy Kind of Love (Sager, Wine) 2:20
You Baby (Spector) 2:45
Monday (Bono) 2:55
Love Don't Come (Bono) 3:05
Podunk (Bono) 2:53
SIDE FOUR
Little Man (Bono) 3:15
We'll Sing in the Sunshine (Garnett) 2:40
Misty Roses (Hardin) 3:05
Stand By Me (King, Leiber, Stoller) 3:40
Living For You (Bono) 3:30
Cheryl's Goin' Home (Lind) 2:40
---