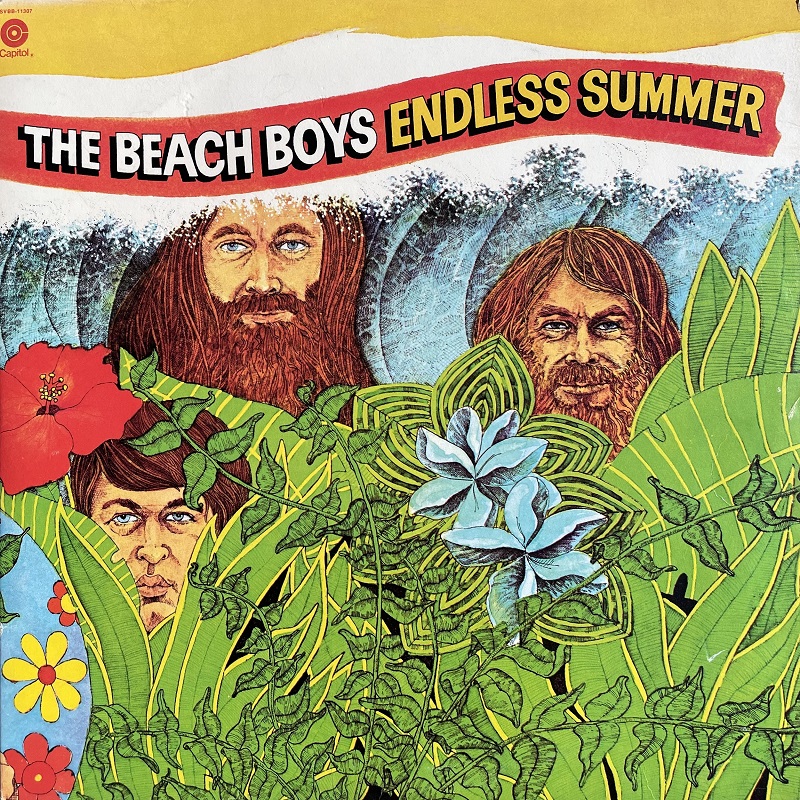 Garage Sale Vinyl: The Beach Boys
Endless Summer / Capitol Records / June 1974
by Christopher Long
Purists typically dismiss compilation releases as less-than-legit albums — and rightfully so. I mean, c'mon, once you own Honky Château, it's kinda tough to justify really "needing" Elton John's Greatest Hits — no matter how much you might love "Rocket Man." However, in the case of Endless Summer, that theory sorta flies out the window. Representing the biggest Beach Boys chart-busters during the band's golden '62-'65 Capitol Records run, the 20-song, two-record set makes a massive statement. The album's undeniable cohesiveness allows it to stand tall all on its own. And I was over the moon recently when a buddy GAVE me his slightly-abused original 1974 vinyl copy.
It was the soundtrack to my personal coming-of-age experience, discovering fast cars, bad girls, and rock & roll. But my teenage days didn't play out circa '65, they played out circa '77. Here's the deal, music isn't "timeless" because it continues speaking to the same aging audience in perpetuity. Music is "timeless" because it possesses the ability to speak to new audiences for generations. Hence, Beach Boys: timeless. Celine Dion: well…
In January 1977, it seemed that all of my peers were being allowed to attend rock concerts. Everyone that is, except me. I had to settle for second-hand accounts of amazing performances by legendary artists the following day in the junior high school cafeteria. So, I never got to see the real Alice Cooper Band, the original Lynyrd Skynyrd lineup, Bonham, Bowie, Thunders, or Zappa.
After denying my impassioned plea to attend a KISS concert in December 1976, my ultra-conservative parents finally gave in and allowed me to experience my first rock show the next month — the Beach Boys. My parents' primary objection to me attending rock concerts was their expectation of people in the audience taking drugs freely and engaging openly in sexual activities. I thought that was ridiculous. What did my parents know anyway? They were over 30, and by my accounts that made them really old and completely un-cool. But when I arrived at the concert that night with the love(s) of my life; Jackie, Sharyon, and Andrea, I was dumbfounded to discover throngs of tie-dye-clad hippies scattered throughout the 10,000-seat civic center in Lakeland, Florida — all smoking dope and groping each other. Holy cow! My parents were right!
The concert was during the band's "Brian's Back" era, heralding the return of chief songwriter, producer, and visionary, Brian Wilson. I've often joked that there are only two kinds of people in the world; "John Lennon" people and "Brian Wilson" people. I'm a "Brian Wilson" people. I once heard a listener comment on a call-in radio show that Brian Wilson is the "Beethoven of pop music." BINGO!
The show was a sold-out event. And from the roar of the crowd and the unique "fragrance" permeating the arena, to the blasting music and colorful light show, the experience proved to be fantastic and memorable.
My mom used to sing Beach Boys songs around the house, back when those songs (and I) were brand new. Fast forward more than a decade, and in January 1977, her music became my music. To this day, Endless Summer transports me back to a magical time, recalling the sound of Jackie's corduroys whistling as she sashayed from science class, Sharyon's ever-intoxicating perfume, and Andrea's bedroom — don't be a pig, all we ever did was play records.
In sum, the Beach Boys' Endless Summer remains a beautiful treasure trove. Honest music. Authentic music. American music. Timeless music. Consume it as you see fit. But for my money, it's best when served on warm, crackly "garage sale" vinyl.
(5/5) ⭐ ⭐ ⭐ ⭐ ⭐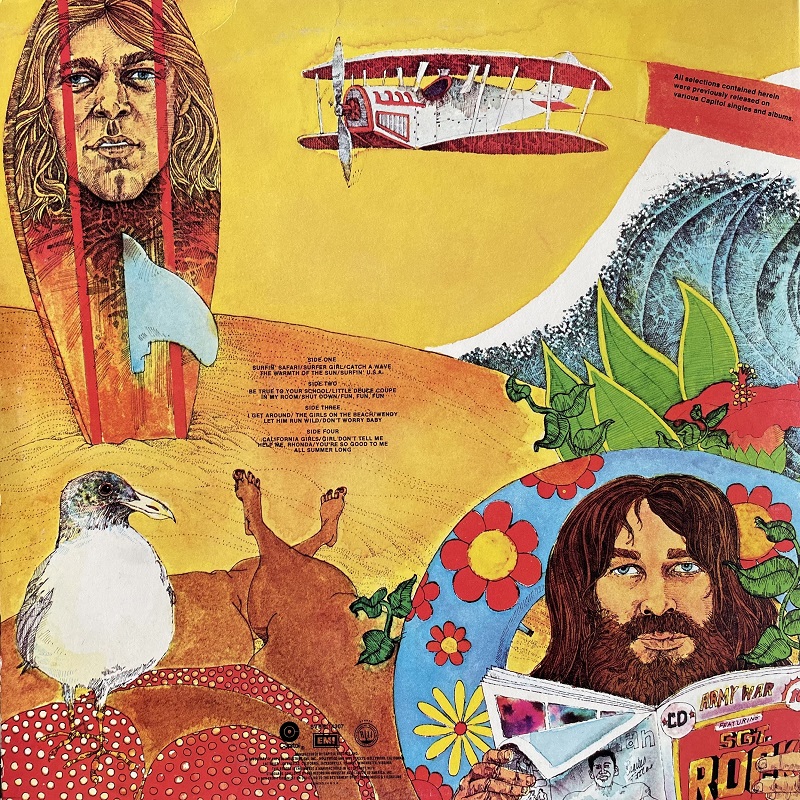 Endless Summer Track List
SIDE ONE
Surfin' Safari (2:05) Brian Wilson, Mike Love
Surfer Girl (2:26) Brian Wilson
Catch a Wave (2:07) Brian Wilson, Mike Love
The Warmth of the Sun (2:51) Brian Wilson, Mike Love
Surfin' U.S.A. (2:27) Brian Wilson, Chuck Berry
SIDE TWO
Be True to Your School (2:07) Brian Wilson, Mike Love
Little Deuce Coupe (1:38) Brian Wilson, Roger Christian
In My Room (2:11) Brian Wilson, Gary Usher
Shut Down (1:49) Brian Wilson, Roger Christian
Fun, Fun, Fun (2:16) Brian Wilson, Mike Love
SIDE THREE
I Get Around (2:12) Brian Wilson, Mike Love
Girls on the Beach (2:24) Brian Wilson
Wendy (2:16) Brian Wilson, Mike Love
Let Him Run Wild (2:20) Brian Wilson, Mike Love
Don't Worry Baby (2:47) Brian Wilson, Roger Christian
SIDE FOUR
California Girls (2:38) Brian Wilson, Mike Love
Girl Don't Tell Me (2:19) Brian Wilson
Help Me, Rhonda (3:08) Brian Wilson, Mike Love
You're So Good to Me (2:14) Brian Wilson, Mike Love
All Summer Long (2:06) Brian Wilson, Mike Love
---