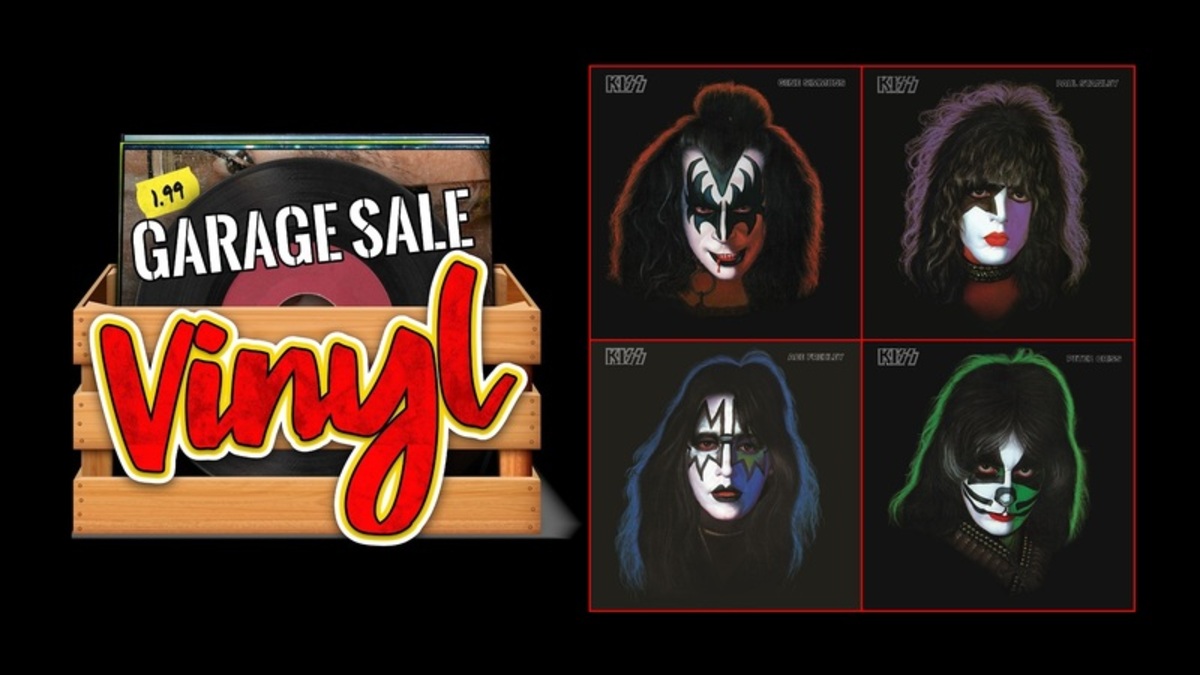 Garage Sale Vinyl: KISS (The Solo Albums)
Paul Stanley, Ace Frehley, Peter Criss, Gene Simmons / Casablanca Records / September 1978
by Christopher Long
POOF! Holy cow — what was that? Oh, that's the sound of 45 years flashing by in the blink of an eye.
Yep, it seems like just yesterday. I was a rock-crazed, reefer-sucking dumbass, working at the neighborhood record store, living my life in absolute strict accordance with the four Gospels of Peter, Paul, Gene, and Ace. Don't judge me, dude. It was 1978. And I was 15.
The band was on one heckuva roll — seemingly unstoppable. Coming off nine consecutive gold and platinum-selling releases, KISS was THE "Hottest Band in the Land." With a much-talked-about TV movie set to air on Halloween night, the kabuki-faced prophets had become real-life superheroes. And on September 18, Casablanca Records went for broke — releasing an individual solo album from each KISS member, simultaneously. The quadruple-record release exemplified 1970s-style marketing chutzpah on steroids. Unprecedented in the music biz, the endeavor ultimately was either a runaway success or an epic failure, depending on one's personal perspective.
Given the band's massive, rabid international fanbase and the record label's deep promotional pockets, the notion that each solo record would achieve gold status (500,000 units) was a no-brainer. However, Casablanca president Neil Bogart had greater expectations. Rather than ordering up TWO million total initial units (four instant gold albums), and allowing them to sell off gradually before pressing a second run, Bogart ordered the production of FIVE million total initial units (1.25 million copies each).
As a result of Bogart's Olympian reach, even after the 1978 holiday shopping season, stores and warehouses still had stacks of unsold KISS solo albums piled sky-high. Before long, desperate retailers were selling off the surplus stock at cut-out prices — from as low as $1.99 each.
BZZZ! "Mr. Bogart? Sorry to interrupt, sir. It's Connie at the reception desk. Um, some men from "waste management" in Las Vegas are here to see you. And they seem pretty angry."
In short order, KISS's Godhead image was diminished drastically — damage that took decades to repair. Oddly, used copies are something of a challenge to locate these days. And if you are lucky enough to hunt any down at a garage sale, flea market, or thrift store, the prices of even dumpster-worthy copies typically violate local obscenity laws.
For me, it was like Christmas, New Year's Eve, Halloween, and the 4th of July, all rolled into one glorious religious rock and roll holiday. I salivated with delight that morning as my boss, Larry, positioned the long-awaited, shiny solo albums prominently across the top of the shop's "New Release" rack. But I only had enough money to buy two of the four LPs on the first day: Paul's and Ace's. Gene's and Peter's would have to wait until payday. Fortunately, Larry was a man of compassion. To make me wait three additional days before hearing the entire solo set would have been just plain cruel. So, he allowed me to get all four at once, with the understanding that I wouldn't take the Gene and Peter LPs home until payday. A kind, fair, and greatly appreciated deal.
The four unified-looking album covers were freaking amazing and have since become iconic. Set against simple black backgrounds, the Eraldo Carugati portraits of each band member gracing the front of his respective record were so detailed and real-looking, the guys seemingly could have jumped right off each cover and engaged in a full-scale, fisticuffs ego clash right there in my bedroom. Now that would have been truly awesome!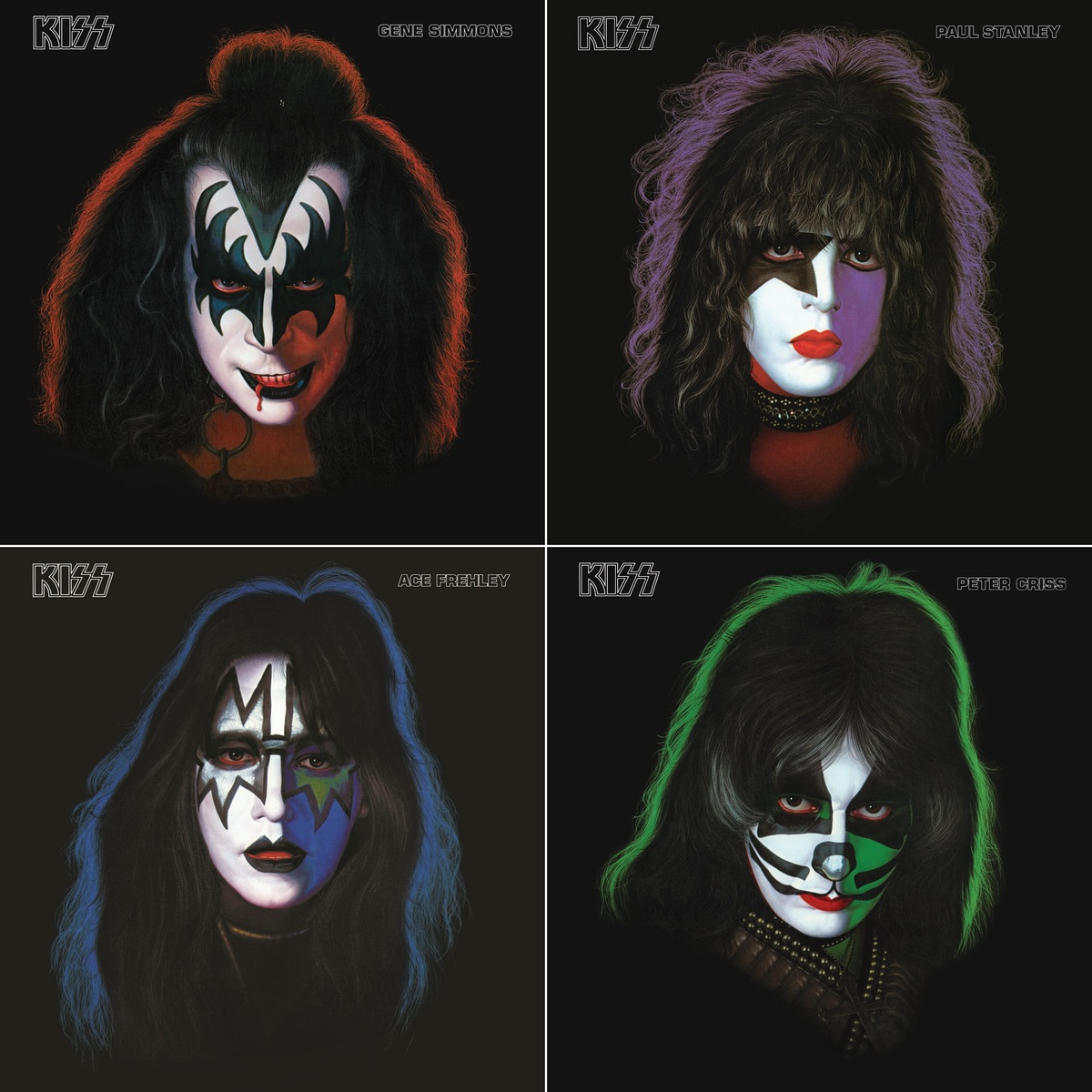 Considerably less cool was the cartoonish color poster included inside each album jacket. The poster set interlocked to create a rather silly-looking group mural. Even as a blind, 15-year-old drooler, I recognized how the posters were goofy — cheesier than even that paper Love Gun. BANG! Also, many fans who scored all four solo albums at once took their treasures home in a plastic souvenir KISS shopping bag. That was cool.
But what about the music? In short, the four records own some of KISS's finest work — packed full of musical surprises along with plenty of low-hanging fruit. Still sounding as fresh as the day I carried home that souvenir shopping bag in 1978, the albums remain among my all-time personal favorites.
• •
PAUL STANLEY
Truth be told, most of the action I experienced during high school in the back seat of my dad's '78 Chevy Chevette was an inexplicable result of the hypnotic power of Paul's solo record — on 8-track. From the dreamy opening of "Tonight You Belong to Me" to the cock rock energy of "It's Alright" to the saccharine-sweet power ballad "Hold Me, Touch Me," this record affected my female teenage companions consistently like a sonic roofie — WAY more potent than the jungle juice being sloshed up at the backyard keggers. Thanks, Star Child! (Producers, Paul Stanley and Jeff Glixman)
(5/5) ⭐⭐⭐⭐⭐
Paul Stanley Track List
SIDE ONE
Tonight You Belong to Me (Stanley) – 4:41
Move On (Stanley, Japp) – 3:12
Ain't Quite Right (Stanley, Japp) – 3:34
Wouldn't You Like to Know Me (Stanley) – 3:16
Take Me Away (Together as One) (Stanley, Japp) – 5:26
SIDE TWO
It's Alright (Stanley) – 3:38
Hold Me, Touch Me (Stanley) – 3:40
Love in Chains (Stanley) – 3:34
Goodbye (Stanley) – 4:09
• •
ACE FREHLEY
A few months prior to its release, magazine reports were circulating about how Ace's upcoming solo record would be comprised entirely of instrumentals. Not only did the Spaceman provide vocals on eight of the nine tracks, his was the only KISS solo record to score a Top 40 hit: the Russ Ballard-penned "New York Groove." My personal pick from the album is whichever tune happens to be playing at that moment. However, if forced at gunpoint to make a choice, I'd have to go with "What's on Your Mind?" Let it go, kids. It's personal, okay? Known (at that time) as the KISS member with mystique, Ace dropped a doozie of a record that was just plain cool. Decades later, it's maintained its street cred. Take THAT, Curly — ACK! (Producer, Eddie Kramer)
(5/5) ⭐⭐⭐⭐⭐
Ace Frehley Track List
SIDE ONE
Rip It Out (A. Frehley, L. Kelly, S. Kelly) – 3:40
Speedin' Back to My Baby (A. Frehley, J. Frehley) – 3:37
Snow Blind (A. Frehley) – 3:55
Ozone (A. Frehley) – 4:43
What's on Your Mind? (A. Frehley) – 3:28
SIDE TWO
New York Groove (Ballard) – 3:03
I'm in Need of Love (A. Frehley) – 4:39
Wiped-Out (A. Frehley, Fig) – 4:13
Fractured Mirror (A. Frehley) – 5:26
• •
PETER CRISS
Since the day it dropped, Peter's record has been maligned — unfairly. But nobody who was paying even a smidge of attention should have been surprised by its authentic R&B flavor. Be sure, it is not the fluffy wimp-fest it's been made out to be. "I'm Gonna Love You," "Hooked on Rock 'n' Roll," and "Rock Me, Baby" are straight-up, old-school rockers. Despite a lil' lounge factor, "Easy Thing" and "I Can't Stop the Rain" are really well-written, heartfelt songs. Honestly, this one has aged quite nicely over the years. (Producer, Vini Poncia)
(4/5) ⭐⭐⭐⭐
Peter Criss Track List
SIDE ONE
I'm Gonna Love You (Criss, Penridge) – 3:18
You Matter to Me (Poncia, Vastano, Morgan) – 3:15
Tossin' and Turnin' (Adams, Rene) – 3:58
Don't You Let Me Down (Criss, Penridge) – 3:38
That's the Kind of Sugar Papa Likes (Criss, Penridge) – 2:59
SIDE TWO
Easy Thing (Criss, Penridge) – 3:53
Rock Me, Baby (Criss, Penridge) – 2:50
Kiss the Girl Goodbye (Criss, Penridge) – 2:46
Hooked on Rock 'n' Roll (Criss, Penridge) – 3:37
I Can't Stop the Rain (Delaney) – 4:25
• •
GENE SIMMONS
Clearly set on throwing fans a curve ball, Gene opted to switch to guitar for his record. He also utilized the solo op as a platform on which to showcase his Beatles-inspired songwriting skill rather than merely a vehicle to further perpetuate his "Demon" persona. "Tunnel of Love" and "Living in Sin" represent two of the record's close calls — nearly great songs marred by dopey, libido-drenched lyrics. However, "See You Tonight," "Man of 1,000 Faces," and "Mr. Make Believe" are excellent examples of Gene's incredible songwriting talent. (Producer, Gene Simmons and Sean Delaney)
(4/5) ⭐⭐⭐⭐
Gene Simmons Track List
SIDE ONE
Radioactive (Simmons) – 3:50
Burning Up with Fever (Simmons) – 4:19
See You Tonite (Simmons) – 2:30
Tunnel of Love (Simmons) – 3:49
True Confessions (Simmons) – 3:30
SIDE TWO
Living in Sin (Simmons, Delaney, Marks) – 3:50
Always Near You / Nowhere to Hide (Simmons) – 4:12
Man of 1,000 Faces (Simmons) – 3:16
Mr. Make Believe (Simmons) – 4:00
See You in Your Dreams (Simmons) – 2:48
When You Wish Upon a Star (Washington, Harline) 2:44
◼
---