The Best of Write Now! #1
by Danny Fingeroth
TwoMorrows Publishing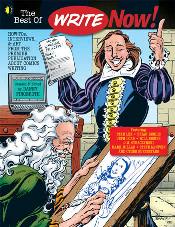 Hey Kid! Wanna Write Comics?! It's a tempting tag line. What super hero fan WOULDN'T want to call the shots on battles between Batman and The Joker? This collection of essays and technical pointers isn't enough to get you a job in the business, but it has some sobering facts if you take the time to read it. Cartooning is a limited career path and not nearly as glamorous as the life Peter Parker lives when he's not out swinging from skyscrapers.
In the first half, we get nine in-depth interviews culled from Write Now! over the past decade. Will Eisner describes his financial and artistic reasons for leaving The Spirit and moving into industrial training and then back again when he invented the graphic novel. Stan Lee philosophizes on how cartoons have shrunk in relative appeal under the tsunami of internet and video options now available to feed our fantasy lives. Mark Ward describes how he fell into cartooning, and made it as a freelancer doing commission stuff for Marvel and DC as well as his own material. There's a common thread here – this is a tough business, and understanding the finance, contracts, and marketing yourself is more critical than coloring inside the lines. If you can create fresh takes on a paradigm that's pretty much been done to death, you might just make it.
The second half of the book looks at some of the technical aspects of page composition, dialog, and story line. Perhaps the most helpful discussion is a crib of Dennis O'Neil's Writing Class notes. They closely follow what I've learned about story and character, but with the added twist of working within the forms of the paneled page – no confusion in motivation, deal with the static panel, and tips on keeping fresh within the world of the super hero. The basics of verbal and visual composition are glossed over, and there's an assumption you either know the tricks for drawing in The Marvel Style, or you'll work with someone who does.
Why become a cartoonist? The same reason Captain America gets into extreme situations every issue. He's a hero, and that's enough. Writing and art are exactly the same – you just HAVE to do it. That and a day job are enough for you.
Two Morrows: http://www.twomorrows.com
---