Hideout Block Party 2008
Monontix, Black Mountain, Vieux Farka Toure, Tim Fite, Neko Case, Rhymefest, New Pornographers
Chicago, IL • Sept 20-21st
Chris Catania
Over two days on two stages, the Hideout Block Party 2008 dished out a varied menu of punk, rock, hip hop, and country and reminded us how good Michael Jackson used to be by celebrating his career and 50th birthday – all of it a fitting end to the summer festival season.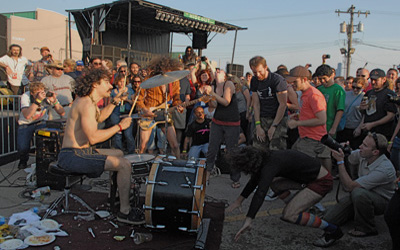 The action on Saturday afternoon didn't start on stage. The amps erupted, but the band was on the pavement surrounded by fans. The guitar hissed, fuzzed, and wailed, then crashing snares and toms began pounding and I quickly learned that the term "spectator" does not apply to a Monotonix show.
As the crowd began to surge and swell with the intense rush of excitement, I also learned that the band's EP should come with a free bottle of sweat, a garbage can, and some sort of magic virtual 3D pop-up to fully capture what it feels like to be immersed in their potent and raw live show. The line between the fans and the band was eliminated. As if beckoned in a tribal trance by the whip-cracking guitar, fans circled around the trio from Tel Aviv as we all followed the lead of the volcanic frontman Ami Shalev, who yanked us through the extremely brief, albeit satisfyingly crazy, four-song set as he crowd surfed in a garbage can.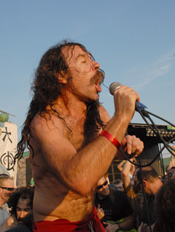 Over the weekend about twenty bands played, but it was Monotonix's set that truly rattled my bones and brain long after they finished – almost making the following bands seem like a ho-hum afterthought. This being their fifth time touring the US, Monotonix has been gaining a raucous reputation for putting on shows that are not just watched and heard, but fully felt by all parts of your body.
Snarling shards of primitive garage punk rock and metal riffs flung in all directions, transforming the parking lot stage area into a rumbling and celebratory free-for-all romp, creating a communal surging physical experience and adding to the intensity of the actual music. Hoisted up on fans' shoulders, Shalev was stripped down to thin cloth shorts as his hairy torso, long locks, and mustache dripped with sweat. He rapidly spit out choppy lyrics, a mix of English and Middle Eastern dialects, pumping his fist in the air.
Cranking the intensity higher halfway through the set – and somehow keeping the beat of the song – drummer Ron Shimony lifted his kit up with help from fans who then held him and the drum kit in the air. Shimony pounded ripples of thunder into the hi-hats, snares, and kick drum as huge smiles erupted on fans' faces, glad to truly be a part of the show but also hoping their heads didn't get mistaken for a snare or hi-hat. And none ever did.
Their punk-metal sound (Black Sabbath, Wolf Mother, Stooges) isn't anything new on the genre radar. But it's the intense presentation, an inspiring experience that joyously obliterates the line between band and audience. And with Monotonix it's clearly more about enjoying the dynamic fun of a live show than just creating a moment of mindless moshing and pointless flinging of elbows and forearms. There's a purpose to it all. Plain and simple, on a mild sunny Saturday afternoon, Monotonix wanted to say "thank you" by liberating the crowd in the same city where they recorded their debut EP Body Language.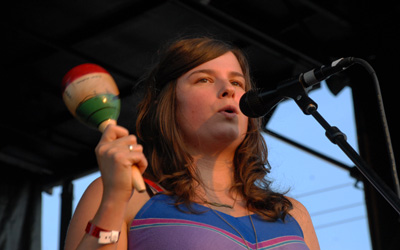 A few hours later, backdropped by one of summer's last golden sunsets, Canadian quintet Black Mountain let loose a rumbling flow of trickling tributaries filled with melodic organs and lurching psychedelic guitar fuzz helixed around the harmonically haunting swoon of lead singer Amber Webber. A low-key cathartic journey down a long dark tunnel of sorrow and trepidation, an introspective moment, and a necessary therapeutic groove that pulled the string down on the setting sun, the band ushered in the two remaining twilight performances of Vieux Farka Toure and Neko Case.
It took a while to fully settle in and transition from Black Mountain's surreal vibe, but once Mali-based collective Vieux Farka Toure got going, the blending of joyous afro-pop, reggae, and spread-out heavy howls of psychedelic blues rock truly took hold and ended with a gritty funked-up jazz cover of U2's "Bullet The Blue Sky."
With a heartfelt lyrical intro by local Chicago rock-poet Thax Douglas, singer-songwriter Neko Case stepped to the mic, smiled, and began with a song from her forthcoming and unfinished album due out in early 2009, disregarding possibilities of jinxing the current recording process. "I know it's not good to talk about an album I haven't finished yet, but I don't give a shit, I'm going to play a song from it for you anyway." The new tune sounded just as good as those from her previous albums, a worthy harmonic and golden warm-up for the following night, when she would join up with her bandmates the New Pornographers.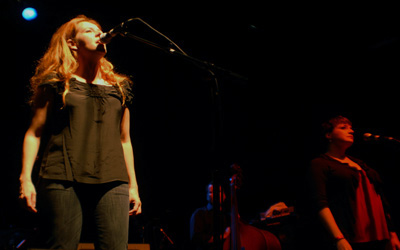 Day two brought more sun, more music, and an entertaining stroll through a mini street festival of sidewalk art, puppet shows, and the necessary political activism of voter booths and free Obama buttons. As the amps began to buzz from the stage, indie-rocking parents got ready to rock as their kids bobbed their heads and squinted in the sunshine, scribbling multi-colored chalk drawings on the asphalt coloring area.
"Come closer… you'll feel better," said Brooklyn-based hip-hop folkman Tim Fite as he tore off his blue jumpsuit, revealing a costume of striped shirt and pants, suspenders, and thin black tie, then somehow got the crowd to play Simon Says in sync with the lyrics of his first song as the bass began to rumble the table full of watermelons and a wooden boom box. It was an intro that recalled the passion and charismatic fervor of a revival preacher but with a whole lot more humor, hip, hop, and silly subversive wit.
Leading with "All Right Here," Fite stomped through a trio of songs cleverly attacking consumerism, gansta rap bling obsession, and war, a mix of tracks from his second album Over the Counter Culture (2007) and this year's Fair Ain't Fair. The beats were as juicy and sweet as the center of the watermelons Fite was hoisting up and then handing out to the crowd, as his DJ, Dr. Leisure, created an undercurrent of vocals, banging old-school samples, electro-blips and bleeps, and quirky carnival melodies.
Without you really knowing, sort of like a fable, a Tim Fite song explains complex issues in simple terms. It's the crafty songwriting that makes all those complex topics he addresses seem like fun. While you're bobbing to the beats and just rocking, he cleverly brings you through a piercing personal anthem. The gifted rhymer surely had everyone's attention as everyone listened to every word, bobbing their heads and hooked in by each catchy couplet and quirky beat. Once his set ended, I had the chance to talk to Fite and ask him about how those watermelons got on stage and what's behind the masterful blend of hip hop and folk ballads (our back alley conversation is captured in a separate interview).
Then it was time to celebrate Michael Jackson, his birthday, and the 25th Anniversary of Thriller. Chicago country indie-rocker Robbie Fulks had the honor of headlining a wacky rock-operaish medley spanning the years from Jackson's Motown classics to Thriller to the reflective anthem "Man in the Mirror".
Slowly creeping from the wings, the Hideout wait staff (now costumed zombies) poured onto the stage, reaching high into the twilight sky, doing their best iconic "Thriller" goulish dance moves. It was an entertaining satire/homage, a hilarious half hour of theatrics that in hindsight upstaged Chicago rapper Rhymefest.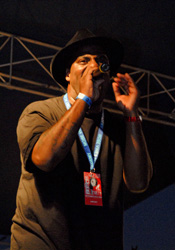 Fulks finished, and Chicago emcee Che Smith (aka Rhymefest) emerged from among the throng of zombies on stage. The crowd was bumping and riding high, loving the moment. But, with Fulks' show, they clearly had been taken through enough of Jackson's catalog, sucking much of the power and excitement of Rhymefest's performance of songs from his Man in The Mirror mixtape, released earlier this year (as one of the year's best mixtape/albums, Rhymefest's recording is far more entertaining than what Fulks and company did on stage). Rhymefest seemed rushed and scattered, and the crowd had reached its Jackson tribute limit, so all the intensity was pretty much gone, making his set void of the fun and creativity it could have had.
Rhymefest slugged through three songs and started to play "Brand New" from his 2006 Blue Collar album. He awkwardly stopped the song, saying he had to clear his mind, and then broke into a emotive freestyle rap about being closer to death. In the middle of the rhyme a fan in the first row shouted "Fuck that shit!" appearing to empathize with Rhymefest and not cut him down.
In odd and abrupt fashion, Rhymefest repeated the phrase back to the fan with a chuckle, spit a few more words trying to finish up "Brand New," and then set his mic down and left the stage.
The crowd stood stunned waiting for his return and possibly a song from his forthcoming album, but the stage lights went down and The New Pornographers took the stage thirty minutes later to wrap up the weekend.
It was certainly an odd way to close a festival but thanks to watermelons, Tim Fite, and Monotonix, the Hideout Block Party 2008 was still a worthy celebration to pull the curtain down on the summer festival season, ushering in fall and sending fans into the clubs to rock.
Hideout: http://www.hideoutchicago.com ◼
---