Miles On Miles: Interviews and Encounters with Miles Davis
Edited by Paul Maher Jr. and Michael K. Dorr
Lawrence Hill Books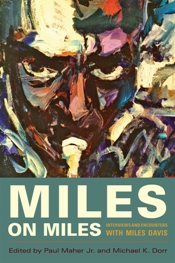 Miles on Miles is a new collection of interviews and essays related to Miles Davis, who is already one of the most densely documented musicians of our time. This book adds to the existing wealth of anecdotal data available for all those people who went all-in for Miles from the first notes they heard, which were for most from either "Summertime" (Porgy and Bess) or "So What" from the epochal Kind of Blue. There are any number of books that cover the specifics of his musical output, but if you want choice nuggets of the man's interior life, this book is certainly worth your time. Editors Maher and Dorr culled 28 chapters and 326 pages from articles written between 1957 and 1989 by some of the finest jazz writers ever – Leonard Feather, Nat Hentoff, Arthur Taylor – and a bunch of people that one would neither expect to run in such circles nor, sometimes, have ever heard of at all. There are a couple of transcripts from radio and television, including a bizarre VJ session for VH1 with future Arsenio Hall bandleader David Sanborn. And there are outstanding personal recollections from Cheryl McCall and Eric Nisenson, both now dead, the latter a leading Davis scholar. While this book is hardly definitive, it ably fills in the gaps in perception.
Miles Dewey Davis III (1926-1991) is one of the most unique and interesting characters in the entire history of music, and that is hardly an understatement. As a musician, bandleader, composer, arranger, author, talent scout, and all-around style icon, Davis has few peers. The rudiments of his story have been run through, run down, and run around about as many times as the chord structure of "Cherokee," but they always bear reiteration. He was born in Alton, Illinois, due southwest of Chicago (which had already become a key locus for the new music). When he was a boy, his family moved south about 20 miles into St. Louis, Missouri, and it was there that the surgeon's son began working on doctorates of a different kind. He got his first trumpet at 11, an age when Jews are having Mitzvahs and Catholics are on the road to Confirmation. Davis was never a religious man; his faith was founded in the sound of horn.
By 15 Davis was playing in school bands and earning pocket money by playing his first gigs. Missouri was a hotbed of hot music back in those days, with Kansas City on the western border hosting a scene built around what became Count Basie's band, a group that also included the extremely influential drummer Jo Jones (who fundamentally altered the way jazz drummers kept time on their traps, beginning a process of moving the center of the beat from bass drum to ride cymbal that continued with Kenny Clarke, Max Roach and Shelly Manne) and tenor saxophonist Lester Young. He was Charlie Parker's primary influence, a close associate of Billie Holiday and, of course, an instrumentalist of the highest level; only Coleman Hawkins and Chu Berry were in his league among tenor men of the 1930s. Young was one of those crucial figures of jazz history – not only a hall-of-fame musician, but someone around whom talent coalesced and became better. He and Davis are similar in that sense, among others.
Combine a genius-level intellect with a hair-trigger temper and a lifestyle that was guaranteed to draw attention, and you have one truly intense and volatile individual. He is best-compared in those terms to men like Charles Mingus and Sidney Bechet, men who produced music of exceptional beauty, but when it got dark, it got really dark. Factor in the racial dynamics of the time, and you end up with the story of Miles taking ten stitches in his scalp from a policeman's nightstick while walking a girl out of a NY nightclub that he had just headlined, or Miles ruining his voice forever by yelling at people too soon after throat surgery. In Davis' later years, he would demonstrate his resiliency by having people fondle his muscled lip, which comes to horn players like wrestlers get cauliflower ear. And the text has more profanity and racial slurs than the Nixon tapes. By the time Davis recorded his first tracks as a leader in August 1947, he had already been witness to history, having figured in Charlie Parker's very first session as a leader, the legendary Savoy side of November 26, 1945 – ground zero for the new music and one of the most significant dates of the 20th century.
Miles began his career a teetotaler, but got hooked on heroin in his 20s as part of his apprenticeship to Parker; many great musicians were destroyed by that drug alone, and alcohol is a whole other story. He detoxed, cold-turkey, over 12 days at the family farm; he cleaned up the way Bix Beiderbecke never did, and from that point the real legend of Miles Davis began to take shape. He reemerged with a new band – his first great quintet, with Red Garland on piano, Paul Chambers on bass, Philly Joe Jones (a good friend of Lenny Bruce, incidentally) on drums and an ascendant star named John Coltrane playing the greatest tenor since Young, a decade earlier.
This is the music commonly associated with "classic" period Miles, a string of instant classics from 1955-60, first on Prestige, then (after marathon sessions to run out that contract, which produced four albums in two days) on Columbia, where Miles would remain for the remaining 35 years of his life, and on into perpetuity. In those four years Davis recorded some of the all-time essential jazz tracks: "Bye Bye Blackbird," "Dear Old Stockholm," "Oleo," "On Green Dolphin Street," "Round About Midnight," "Stella By Starlight," "Straight, No Chaser," and "Summertime." The music sounds as fresh now as it must have sounded way back then; CD reissues have restored the finest delicacies of the musicians involved, making it all sound maybe better than ever before.
That group split in 1957, and Davis sent Coltrane off to work as part of the new quartet being led by Thelonious Monk at the Five Spot in New York, where Trane took huge steps toward becoming arguably the last transcendent figure that jazz will ever have. It reformed in 1958 as a sextet with Julian "Cannonball" Adderley on alto saxophone, and then recorded my personal favorite Miles album, Milestones. The title track became a standard itself (check Bill Evans' version from his own seminal sessions at the Village Vanguard, 1961). Miles spent part of that year in Paris, recording the soundtrack to a Louis Malle film, and the rest in collaboration with Gil Evans, placing his trumpet atop sumptuous orchestrations on Miles Ahead (1957), followed by Porgy and Bess (1958) and Sketches of Spain (1960). He reorganized the group, augmented by Adderley, Bill Evans, Wynton Kelly and Jimmy Cobb; they would record Kind of Blue in 1959.
Davis' second great quintet, which featured Wayne Shorter, Herbie Hancock, Ron Carter and Tony Williams, cemented his reputation as the greatest talent scout of the era, and marked his departure from straight jazz – a place he would not return to until almost the very end of his life. The period from 1969, when he released In A Silent Way, is the real meat of the book. Aside from three pieces written by Hentoff, Lionel Olay, and longtime Columbia producer George Avakian that open the book, almost all of the text covers the years after Miles made his controversial moves into electronic music in the late 1960s. Since this is a period subject to endless debate among his acolytes, it is helpful to have his own insights into his methods and the response to them.
As Davis opened up more to journalists, in the name of the necessary self-promotion of himself to a new audience, he himself loosened up and the perceptions of who he was evolved. Many of the people (like Nisenson) who would become the gate-keepers of Davis' legacy entered his sphere during the electric years, and that represents a personal progress that was not always reflected in the music. Miles On Miles is a useful document of this transition, and a valuable appendix to the music.
Lawrence Hill: http://www.chicagoreviewpress.com
---