Glasvegas
Ida Maria
Brooklyn, New York • March 28, 2009
Kiran Aditham
On the last Saturday in March, a sold-out crowd swarmed into Brooklyn's mid-sized Music Hall of Williamsburg to catch Glasvegas – a Scottish four-piece that's parlayed just one proper, self-titled album into a flourishing career thanks significantly to blogosphere hype.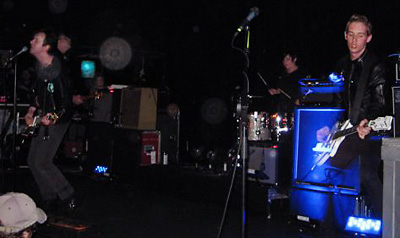 But before the black-clad, melancholic troupe would take the stage, 24-year-old Norwegian rocker Ida Maria opened the show with a raucous set of pop-punk filled with her unabashed tales of sex and boozing. Decked in red and black checkered flannel – and what appeared to be spandex pants – the guitar-wielding spitfire tore quickly through songs from her debut Fortress Round My Heart, including "Oh My God" and "I Like You So Much Better When You're Naked".
While Ida Maria seemed to be right at home on stage bellowing lyrics and sometimes flailing around whimsically, Glasvegas opted for a more rigid, subdued presence when they first appeared. The band, fronted by black leather jacket & pompadour-sporting singer/guitarist James Allan, launched into their first single "Geraldine," an anthemic blue-collar tune rendered even more powerful by the great acoustics of the Music Hall.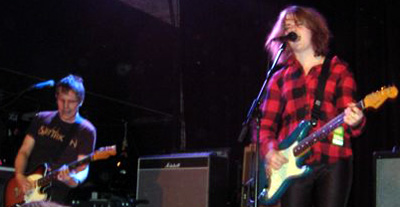 Comparisons to early Jesus & Mary Chain have dogged Glasvegas since they first gained notice, but with Allan's pained, poignant vocals, drummer Caroline McKay's clanging, stripped-down trapkit and guitarist Rab Allan's loud, enveloping chords, the band's kinship lies more with old school U2 and Phil Spector's Wall of Sound. As the show progressed, and the band unveiled more album cuts including the building, mid-tempo piece "It's My Own Cheating Heart That Makes Me Cry," Allan and company seemed to be getting more comfortable with their audience.
Relinquishing the guitar, grabbing the mic and sauntering around onstage, Allan – who bears an eerie resemblance to the late Joe Strummer – led Glasvegas through the nine-song set featuring the seven-minute opus "Flowers & Football Tops" and closer "Go Square Go." The latter track was a rousing crowd-pleaser that had everyone dutifully clapping and singing along, chanting "Here we, here we, here we fucking go" as the driving drum beats and chorus made for an ideal climax.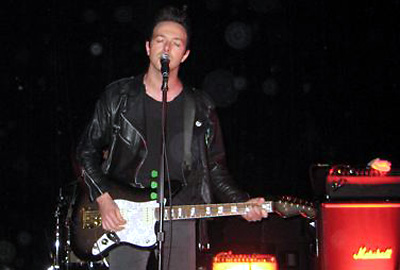 Still, neither band nor audience was through, as Glasvegas stretched their discography to its limits by returning with a two-song encore that ended with the emotional ballad "Daddy's Gone." Time will only tell how Glasvegas' career will turn out, but if the vibe this past March in Brooklyn was any indication, the Glaswegian group has clearly resonated with an audience beyond the internet.
Glasvegas: http://www.glasvegas.net ◼
---