Modest Mouse
Japanese Motors & Mimicking Birds
Orlando, FL • Monday, March 9, 2009
S.D. Green
At what point can we start calling them Immodest Mice? Two drummers on stage? This isn't "Oyo Como Va," this is "Teeth Like God's Shoeshine." Well, we're a long way from The Lonesome Crowded West. A lot has happened since the breakout success of that album. Band members have come, gone… and come back. So, it was pretty smart to bring both original drummer Jeremiah Green and current percussionist Joe Plummer, because going from an indie darling to fairly mainstream success, quickly moves you out of the small pond and into the big ocean. House of Blues is not the Royal Albert Hall, but Isaac Brock and company made sure to pack enough ammo to fill the space. So, we'll give them a pass on that one. And on the small, lonely singularity implied by "mouse"? The stage is now crowded with musicians and organs, banjos, upright basses, etc.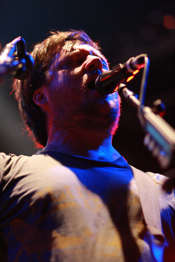 Adding one of modern rock's most recognizable and influential guitarists to the lineup means Brock's not shouldering the songwriting duties alone anymore. So, maybe it's time to pluralize the band. But no, former Smiths guitarist Johnny Marr wasn't there (former Grandaddy guitarist Jim Fairchild filled in), and Brock, though the center of everyone's attention, occupied a small, dark corner of the stage, away from the spotlight, in a workman's t-shirt and jeans. He hasn't gone all glam. While known to get a bit ornery, he didn't piss off the audience. Didn't ham it up. He mumbled a lot, something about 5:45 and propositioning for a haircut. Yeah, still mousy.
The band played tunes that spanned their recording career, neither ignoring their hits "Dashboard" and "Float On," nor languishing in old and obscure material. The most diva thing about their set was the 45 minutes it took to set-up behind House of Blues' Oz-like curtains. I guess there was also the panties thrown on the stage, but Brock's response – quietly picking them up and moving them off stage – was more custodian than showman. It's good to see that even though they've picked up a ringer like Johnny Marr, and through all the ups and downs, the three original members of Modest Mouse are still playing together – even if, nowadays, it involves a much more elaborate production. Some people won't like the bigness of it all, but I think it suits the growth of the band and their popularity.
Openers Mimicking Birds are a somber, mostly acoustic act that were a bad fit for "warming up" an audience. It was hard to tell if songs were being played or instruments were just being tuned. They would stop mid-song, start talking, then start over – and not in a cool, "rewind, selecta!" dancehall reggae kind of way. Nathan Lacy has a clear and pleasant voice, but the band's ethereal sound is better suited to rainy Sundays following hard breakups than opening for one of the spikiest, most frenetic, and most popular indie bands. There was no way their bedroom music was going to survive the cavernous House of Blues or an agitated audience eager to hear one of their favorite bands.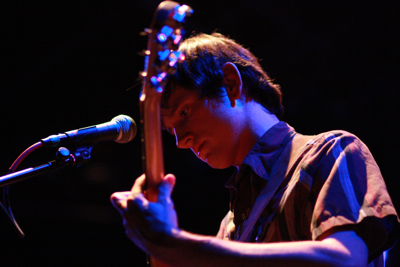 Talking to the crowd, many of them had seen Modest Mouse more than half a dozen times. And they ran the generational spectrum. There were plenty of gray beards who followed the band through tours with Yo La Tengo and other elder statesmen, and youngsters clued in through more mainstream channels (both literal and figurative. If you've heard "The View" on The O.C., you know what I'm talking about). Snippet of a random conversation: "Oh my God, how do you not know TV on the Radio? They were on the cover of SPIN magazine!" Babies are born everyday, and the world keeps on turning… .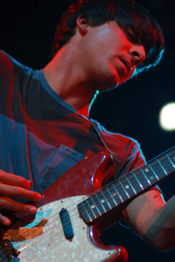 Truth be told, I was at the concert courtesy of Japanese Motors. They have the HOB's clockwork show schedule and the Mimicking Birds to thank for my missing their set. Surely the laconic Mimicking Birds would play first, while everyone was getting frisked at the entrance, right? Well, no. Strangely, the more upbeat Japanese Motors opened. So, sorry I missed you guys. Here's what I was able to cobble together from eyewitnesses who saw them perform: They had great sound but muddy lyrics. Their guitarist is tall enough to be in the NBA. They sound like they were trying to do a surf-rock-meets-the-Cure thing. Now I really wish that I had caught their set because, listening to them online, I got a heavy Strokes vibe. Far less interesting than Robert Smith doing "Wipeout."
Observation: People pay a lot closer attention to artists at concerts than I realized. Apparently Isaac lost a lot of weight. I wouldn't have known this had the girl next to me not whispered this to her boyfriend. She seemed truly shocked. I'm sure it's this kind of scrutiny that makes Brock wince. He's tried very hard, amid all the hoopla, to keep it about the music. I was more surprised by the rampant security detail for a relatively well behaved indie crowd. Yes, two girls in the front row got into some fisticuffs, but for the most part, the crowd mimicked Brock's stationary pose, staring up at the stage. Some kids got roughed up for standing on the furniture, but the way the HOB is built, it's hard to see the stage at sold out shows. The video monitors around the venue need an upgrade. The cameras were mostly stationary, the TVs were small, and with the screens so dark, they didn't help at all.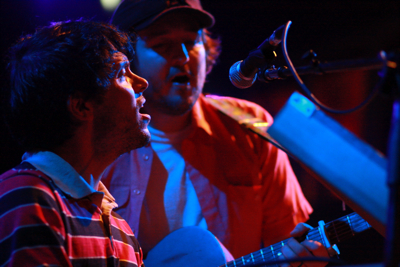 Tired of craning my neck up from the ground level and getting harassed by the furniture guardians on the upper level, I hung back at the bar and gazed into the opaque TV while I took notes. Some guy was desperate to know if I was writing the setlist. I wasn't; but for that guy, here's the setlist – as best as I can recall:
"Black Cadillacs" 2. "Education" 3. "Dashboard" 4. "Good Times are Killing Me" 5. (A song with a title I can never remember, but I can hum it for you…) 6. "Tiny Cities Made of Ashes" 7. "Satin in a Coffin" 8. "3rd Planet from the Sun" 9. (Think I was ordering chicken tenders) 10. "Alone Down There" 11. (I must have been in the bathroom) 12. (Something new? Nobody seemed to know the words) 13. "Float On" 14. (You got me, and I don't mean they covered The Kinks' "You Really Got Me") 15. "Wild Pack of Family Dogs." They played a few more songs in the encore but I was making my way to the parking lot.
OK, so that's a poor attempt at a setlist. I'm willing to admit it. If Isaac Brock and the rest of the Mouses can play a flawless set and still be modest, I can too. They may not be as raw as they once were, and the experience may not be as intimate, but they still don't disappoint.
Modest Mouse: http://modestmousemusic.com ◼
---