Population: 1
directed by Rene Daalder
starring Tomata Du Plenty, Sheela Edwards
Cult Epics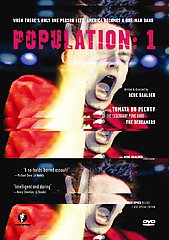 When is an apocalyptic vision of a world decimated by nuclear warfare with only a handful of survivors all killing each other off not just some ropey fodder for the 1 am slot on Sci-Fi network? When it becomes a surrealist history of 20th Century popular culture, told through the words and songs of Screamers vocalist Tomata Du Plenty. The Ed Wood meets Stephen Sondheim or Rocky Horror meets Buck Rogers extravaganza of Population: 1 was originally released in a limited run in 1986 and is now getting a DVD reissue.
Population 1 stars Du Plenty as the last living human in a decimated Earth, delirious with cabin fever and loneliness and regret, possibly beset by zombie vampires on the outside. He wanders around his bunker in endless circles or watching old TV shows and home movies, followed around by his appliances, reliving ever more fantastical versions of his past… in song! Most of the action in the film is told in flashback and we see du Plenty and his lady love (Sheela Edwards) live out the last fifty years of American popular culture, going west to Hollywood, singing songs for the troops in World War II, playing waltz songs during a dance marathon, bashing out punk songs in a gritty club (the Screamers, natch), phantasmagorical miniature Busby Berkeley numbers, and psychedelic head trips. Then we fast forward to the last days of humanity, where a handful of hapless survivors of some terrible (unnamed) cataclysm live out their days in a frenetic dance party, while a sinister/doctor nurse duo experiments on stragglers and Tommy Gear torments a very hapless Penelope Houston. Everyone dies and/or becomes nuclear vampires, which brings us back to the dystopian present, with du Plenty, ravaged by despair and with only a fractured vision of cinema's golden age to comfort him, his lady love a vampire torch singer RIGHT OUTSIDE THE DOOR, and then a shock twist ending that will surely inspire endless arguments amongst the stoners, artists, and philosophy students watching this DVD.
I promise, that last line wasn't meant to be a slam against this fucking handsome two-disc package. You get a fullscreen version of the film, packed with appearances by LA luminaries like Penelope Houston of the Avengers, a 12-year old Beck, Al Hansen, Vampira, and Sheela Edwards, an interview with visionary/bonkers director Rene Daalder, theatrical trailers, the "lost" prequel (Mensch), a still gallery, and a treasure trove of Screamers goodies. The extended Screamers live footage is, no insult to Daalder and his vision, the real lure of this film. The Screamers is one of the most underrated and creative acts of the first wave of LA punk – peers include the Germs, the Weirdos, and X – having never released a record and having really no material at all readily available. So it truly is a shock to the system to see the Screamers performance footage that made its way into the movie and the generous extra concert footage (40 fucking minutes!!) on the DVD. Du Plenty jerks spastically about, his mouth open in a Munsch-esque scream and his spiked hair impossibly high, his vocal contortions backed up by the taciturn KK Barrett and Tommy Gear, looking like members of a glammed-up Kraftwerk. Sheela Edwards joins them looking like Siouxsie Sioux's ill-tempered younger sister. The whole thing is sci-fi passion play, a lost master plan for rock n' roll.
Population: 1 is a bargain basement technicolor cut-up musical that is strangely affecting and just this close to heartbreaking.
Cult Epics: http://www.cultepics.com
---