I, Doll: Life and Death with the New York Dolls
by Arthur "Killer" Kane and Barbara Kane
Chicago Review Press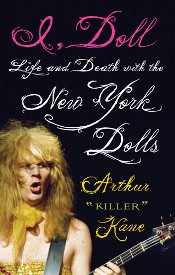 Just after the invention of Glam Rock but before Spandex existed, a tribe of disaffected young men living in a dystopian New York City invented punk rock. While they knew which end of a drumstick to grab and how to make an E chord, their real genius was in a combination of fashion sense and the certain knowledge that stepping out of the frame was the quickest way to fame. The New York Dolls streaked across the sky like a flaming Death Star, crashing in a smoking crater of alcoholism, drug addiction, bad management, and dashed promises. Younger, more skilled stars dug though the wreckage, giving us Aerosmith, W.A.S.P., and the Ramones. Arthur Kane was left behind, embittered and broke. He coulda been a contender, but he took a fall for art. Let's have a moment of silence right here.
This florid and occasionally accurate biography of the band conveys the sense of wonder a shot at stardom carries, and a sense of doom because no one knew what exactly to do when the fairy dust of fame touched them. The Dolls knew fashion and knew that technical skill was nice but not critical. They didn't know when to stop drinking and tripping, and even when they got a bit of adult supervision in the form of manager Marty Thau, they never got their focus off partying and onto making tracks.
You'll find dozens of hilarious anecdotes in these exclamation point filled paragraphs. There's the synchronized vomiting session at a British early morning show powered by a hangover and a few gallons of Newcastle Brown. Another time, David Bowie went drinking with the Dolls, only to flee when accosted on the street for their weird costumes. On their professional stage debut, they simultaneously lost their pants due to weak stitching and over-energetic dancing. There's surprisingly little talk about music, except some braggadocio and how they got their nicknames. It's fashion and frolic that the book focuses on: The Dolls spent their days searching thrift shops for vintage drag gear and then sleeping with any woman that was at least as sober as they were. Occasionally they even wrote a song.
Kane is quite bitter about his management contract; he refers to Leber and Krebs as "Lederhosen and Crabs" and laments the bad gigs and lack of promotional support. Like other bands of the era, there was an implicit lie in a record deal that their agent and management would look out for the Dolls' best interests. That never happened, but it's unclear whether that was malfeasance on management's part or the Doll's inability to reach a professional level of sobriety. Kane admits to some memory issues, and the book is full of editorial footnotes pointing out documentable errors in geography and timeline. View this as historical fiction, and not a factual account of daily details.
The touching part of the book is Barbara Kane's Epilogue. Their romance was rocky, as Kane was one of those "lovable when sober; homicidal when drunk" guys that some women eat up. Her survival story in a world of violence, addiction, and recovery put the NY Dolls in the cold fluorescent light of reality – they were skilled and outrageous, but their lives and their stage show were identical. They broke the mold, and then broke themselves, leaving only David Johansen, a latecomer to the group, to make a career out of this weird business. Alternately funny and heartbreaking, this is not a great biography, but an essential one if you want to understand what drives the excess of rock and roll.
Chicago Review Press: http://www.chicagoreviewpress.com ◼
---