Fela Kuti's Chop n' Quench
Re-opening the "Shrine" of Afrobeat
S.D. Green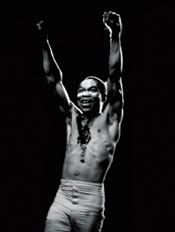 With a bio-pic in the works at Focus Features, and Broadway's Fela! getting glowing reviews with the theater crowd, Knitting Factory Records saw an opportunity to re-release Fela Kuti's catalog to a new generation of fans. "The Kuti family had a license with Universal which was expiring. Knitting Factory did a deal directly with the Estate for the next 11 years. It seemed like a great time for the Knitting Factory to re-launch the catalog," Brian Long, Label Manager of Knitting Factory said. "Our goal is to re-release the entire CD catalog this year." A commendable, if highly ambitious task. That's 45 albums, 26 CDs – a huge chunk of West African musical history.
The legacy of Fela Kuti – the creator of afrobeat – stretches back more than 40 years, criss-crossing the globe from his time spent studying music in London to his compound in Lagos, Nigeria, where he fought contentious battles with the Nigerian government while making some of the most kinetic music on the planet. To get the full story, Knitting Factory would definitely have to go back.
Back before 2002's Red Hot + Riot compilation, featuring Fela's musical admirers – from Dead Prez to Taj Mahal. That album brought his ouevre to the attention of the masses in the west, although DJs and musicians (everyone from Brian Eno and the Talking Heads to Ginger Baker, a friend and collaborator) have been playing, sampling, and riffing off his ideas for decades. Back before 1997, when the cantankerous and controversial Kuti succumbed to the complications of AIDS/HIV, an event that made plain the mortality of a man who lived like a demigod or Emperor on his compound, Kalakuta Republic, where his band rehearsed, performed, partied, protested the government, pushed for pan-African unity, and suffered the tyranny of Nigeria's various corrupt governments. Back before adopting the name Anikulapo, which means, "he who carries death in his pouch." Back before his embrace of traditional tribal custom resulted in the 1978 marriage to 27 of his back-up singers. Back before the tragic death of his mother, Funmilayo Ransome-Kuti, during a 1977 raid on the compound which ended with Fela brutally beaten and his mother thrown out of a window. Before campaigns for the presidency of Nigeria and his provocative pro-black political messages inspired by a trip to the United States in 1969 where he discovered the philosophies of Malcolm X. You go back to the mid-'60s, to Fela's days playing the popular big band music of Nigeria and West African nightclubs, highlife, and his first bandleader gig with Koola Lobitos.
Chop n' Quench includes The '69 Los Angeles Sessions, London Scene, Shakara, Open & Close, Live! Fela Ransome-Kuti The Africa 70 (with Ginger Baker), Music of Fela – Roforofo Fight, Afrodisiac, Gentleman, and Confusion.
"The L.A. Sessions was actually the first Fela Kuti album released in Nigeria," Long says. It's something of a compilation of Fela's 1960s work with the earliest incarnation of his band Koola Lobitos (the foundation for Nigeria/Africa '70) and diverges the most from the fiery, muscular sound he would hone with Africa '70 and Egypt '80. Jazzier with more major key melodies and a less prominent rhythm section, the music is polished yet unspectacular. Fela's lyrics are mostly repetitive, dancefloor scats – far from the scathing indictments of Nigeria's political leadership, organized religion, and military he would deliver in playful pidgin English and Yoruba sing-speak on tracks like "Zombie" and "Coffin for Head of State," or sly twists on traditional Nigerian sayings like "Water No Get Enemy." Only "My Lady's Frustration" crosses the 7-minute mark into signature Fela-extended-jam territory.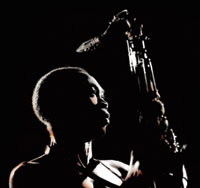 Afrobeat began as a fusion of the uptempo, big-band dance music of highlife infused with traditional African percussion and a distinctly American funky bottom-end that heavily echoes the sound of James Brown and the J.B.'s. Much like the Godfather of Soul, Fela Kuti could be accused of revisiting his signature sounds over and over again. But critics who make this argument miss the point – one that should be considered before delving into a collection of almost 50 songs and multiple hours of music. Unlike other forms of pop music that digest sounds and move on in an insatiable need to be progressive or cutting edge, Fela Kuti is after the intrinsic and fundamental root, a hypnotic pulse that Kuti continually turned inside out with variation after variation of African rhythm and swing. Similar to some of Miles Davis's experiments with funk in the 1970s, Kuti's band often hangs in one mode or chord, exploring the tumultuous depths of drummer Tony Allen's groove more than its breadth – not dissimilar to traditional African musics that don't change rhythms as much as they add layers and dimension.
It's a mistake to be preoccupied with the sameness of the music when it is a much more rewarding experience to let the snaking guitar, thunderous plucked basslines, and shuffling polyrhythmic drum patterns lift you into the call-and-response choruses that spell out a complex life of protest, ego, quest for freedom, and self-expression that only winds itself tighter and tighter with each new track.
That's not to say that the music is all cut from exactly the same cloth. The first album, The Los Angeles Sessions, is definitely the most unlike the others. But the soft and smoldering "Trouble Sleep Yanga Wake Am" (Roforofo Fight) is more inclined to get your lighter in the air than your derriere, while "Gentleman" shows off Fela's chatty saxophone solos (which he'd only recently begun playing in the band at the time of its composition) over an irrepressible Allen beat.
Much of the material here is already available elsewhere. What makes these re-issues unique is the emphasis on a multi-media approach to delivering a complete Fela Kuti experience to the listener. Through the Knitting Factory or Fela Kuti website, you can purchase the Chop n' Quench collection as 320kbps MP3 digital downloads or go all the way up to the "Deluxe Package," which includes 6 digi-pack CDs with the original artwork, the authorized biography of Fela, This Bitch of a Life by Carlos Moore, and a Best of the Black President album cover screen print. Long points out the mentality behind this strategy and what else is in store: "We are compiling and creating multi-media to help us marketing the catalog. We videotaped interviews with Gharioukwu Lemi who painted many of Fela's album covers and Tunde Adebimpe from TV on The Radio, who is Nigerian. They will be shared later in the spring. We will be doing release parties quarterly at the Knitting Factory. The first was a huge success with lots of dancing in the bar…but that's the magic of Fela, isn't it? Every October there are "Felabrations" to celebrate his birthday set up around the world. A big event is being planned for Lagos this year. We coordinated about 18 of them last year in the States. I'll bet there will be even more in 2010." It's this kind of re-thinking of album releases that give fans customizable options for how they want to consume the music, centered around events that connect them with other fans that may present a new direction for record companies and their artists.
"Our goal is to introduce Fela to a new generation of fans and to make the music generally more available than in the past. Part one of that is showing the connection of Fela and Afrobeat to hip hop. There is a video currently circulating on the web of ?uestlove [drummer for the Roots] discussing this."
And so, Fela lives. Like all legends, the true legacy begins when people come to terms with the fact that there won't be any more music. Into the void come many new artists who will interact with the music in different ways. Ozomatli and Antibalas wouldn't exist without the blueprint of Fela, while Common's entire album Like Water for Chocolate is composed with samples, interpolations, and the influence of the late composer. TV on the Radio is taking the influence in one direction while Zozo Afrobeat go in another, both bands based in NY with Nigerian members. Kuti's progeny carry on his legacy, with Femi Kuti and his Positive Force almost a living tribute to his father, and Seun Kuti bringing a new fire and approach to afrobeat, fronting his father's band and taking it in a contemporary direction.
Knitting Factory's re-release of Fela's albums will no doubt initiate a new wave of inspiration that will bear fruits in the months and years ahead.
The next installment of Knitting Factory's Fela Kuti re-release project is the 14-album collection Na Poi, coming May 11, that highlights the mid-'70s artistic peak of Fela Kuti and Africa '70: Alagbon Close/Why Black Man Dey Suffer; He Miss Road/Expensive Shit; Excuse-O/Monkey Banana; Noise For Vendor Mouth/Everything Scatter; Kalakuta Show/Ikoyi Blindness; Yellow Fever/Na Poi; Unnecessary Begging/Johnny Just Drop (J.J.D.)
Knitting Factory Records: http://www.knittingfactoryrecords.com ◼
---