Glen Campbell
Ghost on the Canvas
Surfdog Records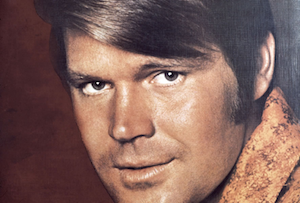 This is it. The last one. The end of the line for the Wichita Lineman. After a six-decade-long career in music that included session work for everyone from Frank Sinatra to Merle Haggard, years of memorable country and pop hits on his own including a number penned by the great Jimmy Webb, a long-running variety show, and his own theater in Branson, the 75-year-old Glen Campbell is calling it a career. In June, he announced he was diagnosed with Alzheimer's and that this record would be his swansong. And what a swansong it is, tracing and reflecting on the arc of a life that has had its share of struggles as well as triumphs, and pondering an uncertain future. Together with producer Julian Raymond and a huge supporting cast of famous and talented admirers, Campbell has assembled a great collection of tunes to go out on that play to his strengths – the plaintive Arkansas twang, the still impressive guitar chops, and the tastefully string-soaked, countrypolitan arrangements that produced so many memorable songs over the years.
Campbell sings about being somewhere between here and the hereafter on the brief, tantalizing opener "A Better Place." "Sometimes I'm so confused, Lord/ My past gets in my way/ I need the ones I love, Lord/ More and more each day/ One thing I know, the world's been good to me/ A better place awaits you'll see," Campbell sings, summing up a life in 1:51 while accompanying himself with some beautiful finger-picked acoustic guitar.
The Paul Westerberg-penned title track covers similar lyrical ground and produces another of the record's lump-in-the-throat moments. "I know a place between life and death for you and me," Campbell sings as a sweeping string section colors things in. Unfortunately, Westerberg also offers up a bridge section that's marred by some dodgy first-draft lyrics ("Ring around the rosary / Pocketful of proserie"?). Nevertheless, it's a song that Campbell, in a voice seemingly undiminished by time and age, knocks out of the park.
Westerberg turns up again later, penning "Any Trouble," another of the record's emotional highlights with a great drive to it and a wicked backbeat. "Don't go to any trouble/ You know I won't be here long," Campbell sings. Once again, here it's a bridge part that nearly derails the proceedings. "Don't pin your hopes/ Don't pin your dreams/ On misanthropes and guys like me," Campbell sings. While Westerberg has every right to borrow from himself (the line is from his own "It's a Wonderful Lie" from 1999s Suicaine Gratifaction), it's harder to imagine the always crowd-pleasing Campbell as a misanthrope.
Ringing truer here are the handful of songs co-written by Campbell and Raymond that form the album's essential core. "Thousand Lifetimes" is a "Wichita Lineman" update that any indie rocker would be proud of. "I have washed upon the shore/ I've fought and conquered demons/ I've broken down and broken up/ Without a rhyme or reason/ I've held the ring of brass and many times smashed it to pieces/ Each breath I take/ Is a gift that I will never take for granted," Campbell sings.
"Amazing Grace" is not the old number from church and Mr. Spock's funeral, but a soaring Campbell vocal showcase and the first of several touching tributes to his wife, Kimberly, this one with a dash of loping banjo.
Campbell reflects on what may lie ahead for both of them on the dramatic "Strong." "As I look into these eyes I've known for all these years/ I see for the first time in my life fear/ This is not the road I wanted for us/ But now that it's here I want to make one thing perfectly clear/ All I want to be for you is strong."
Then, on the set-closing "There's No Me… Without You," Campbell sounds even more defiant in the face of an uncertain future as he sings "I'm never gonna fade away/ Your love won't allow me to." The melody is George Harrison's "Something" crossed with John Lennon's "Imagine," and it turns into one last guitar jam with Campbell joining an army of ax men including Billy Corgan, Brian Setzer, Rick Nielsen of Cheap Trick, Jason Falkner, Marty Rifkin, Steve Hunter, Tim Pierce and Keith Urban.
Setzer also turns up alongside Chris Isaak and Dick Dale for a run through Teddy Thompson's self-deprecating tune "In My Arms." Pedal steel adds a touch of country to the '60s pop sound of the original.
Campbell also tackles Jakob Dylan's atmospheric, pretty, almost mantra-like "Nothing But the Whole Wide World." A touch of mandolin is the perfect accompaniment as Campbell sings "No rich man's worth his weight in dust/ They bury 'em down same as they do us/ God wants you busy, never giving up/ He wants nothing but the whole wide world for us." It's a tune that would have worked on one of Johnny Cash's late career records as well.
Robert Pollard's "Hold On Hope" is another near-perfect song choice and one of the prettiest (and least obtuse) songs the Guided by Voices frontman ever penned. "Invitation to the last dance / Then it's time to leave," Campbell sings, supported by a chorus of background singers.
Also worth noting about the record are the interstitial musical breaks provided by Roger Joseph Manning (ex-Jellyfish). The brief vignettes both link the songs together and reflect on Campbell's multi-faceted life and career. The steel guitar and windchime-like vibes of "Billstown Crossroads" transport us back to Campbell's Arkansas boyhood home. "May 21st, 1969" marks the date Campbell's variety show debuted. "Wild and Waste" perhaps refers to Campbell's post-stardom, early '70s decline into drug and alcohol addiction. "Valley of the Sun" takes us to Arizona, where Campbell makes his home these days. The sounds of children playing combine with a distant, melancholy, carnival-like echo of "Southern Nights," the Allen Toussaint number that was Campbell's last big hit in 1977. And the "Pet Sounds"-like vocal interlude "The Rest is Silence" reminds us that Campbell once recorded and toured with The Beach Boys.
Throughout Ghost on the Canvas, the emotions are palpable, the mood elegiac without being maudlin. It's the sound of Glen Campbell saying goodbye on his own terms, while still at the top of his game, surrounded by talented friends. It's a remarkable (premature) epitaph that is likely to prove worthy of remembering alongside the many other highlights of Campbell's impressive canon of American song.
Glen Campbell: http://glencampbellmusic.com
---