Bush
with Chevelle, Filter
House of Blues, Orlando, FL • October 19, 2011
Jen Cray
Bush may not be Nirvana or Pearl Jam, but they got a bad rap in the '90s just because they came along a couple years after the grunge scene exploded. Unfairly judged for being late to the party, and so dubbed bandwagon-ers, Sixteen Stone never got the respect it deserved as a stellar debut record. Front man Gavin Rossdale's good looks and good fortune (Hello, Mr. Gwen Stefani) didn't help the often rigid rock scenesters accept him or his band, either.
After Bush split up in 2002, Rossdale tried again with the group Institute – which was, essentially, Bush with a different lineup. One album and an opening slot on U2's tour was all that came of that project, so the pretty Brit with the famous wife tried it solo and put out a more pop-leaning rock album that, beyond spawning a minor hit, also fizzled out.
Now, after a nine-year hiatus, Bush is back – at least a new incarnation of it. Other than Rossdale, drummer Robin Goodridge is the only original member – Chris Traynor (who played in both of Gavin's past projects) is on guitar and Corey Britz handles the bass. A new album (The Sea of Memories) and a new tour that sold out to an uncomfortable degree in Orlando close out 2011.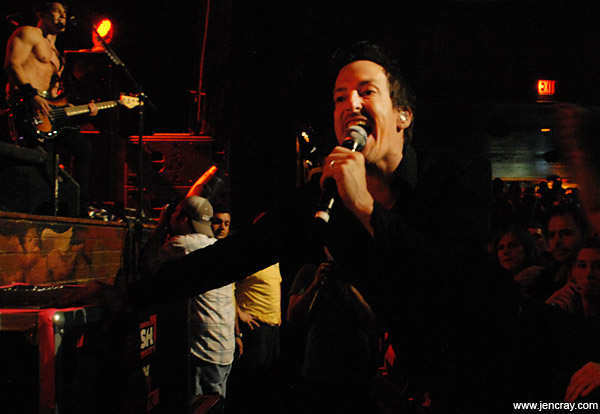 A $50+ price tag (VIP tickets went for nearly $300! ) was justified for many, with the bill's inclusion of two more bands born during the Clinton years.
A strange and seemingly intoxicated ("Is everyone high, or is it just me?") Richard Patrick led Filter through a set of mostly old hits that he performed mostly from within the security barricade. "Take a Picture," the group's biggest commercial hit, was a shoddy version of itself as Patrick struggled to stay on-key during the scream-filled chorus. Ironically it was not during this song, but during "Trip Like I Do" that he grabbed a camera from an audience member and recorded the show from his perspective – giving one fan a super unique souvenir! He instructed the girl to "put that on the Internets."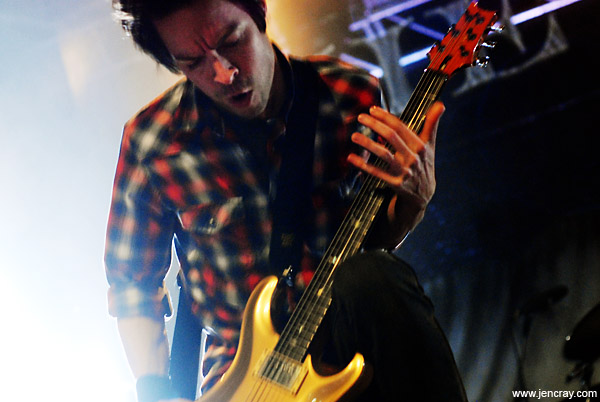 After inviting fans up to the merch table to meet the band because "I'll sign whatever you want… I know that it's you guys that pay the bills," Patrick crawled into the audience to crowd surf around the room during "The Best Things." Closing out the set, giving the people what they really wanted, was the crowd-unifying "Hey Man Nice Shot."
An inexplicably large fanbase earned Chevelle a painful 45 minutes onstage. Well, maybe "painful" is too harsh, because the quiet-loud-quiet formula they beat into the ground wasn't so much killing me as it was boring me to death. The trio mowed through music that wanted to mimic Tool, but came off more like any third rate alt/metal band that should have faded into obscurity after an album or two. Singer/guitarist Pete Loeffler's Maynard Keenan-esque vocals were the only saving grace for this otherwise unimpressive band.
"Much like suffocating/ much like suffocating," Loeffler whined during "Send the Pain Below," and I felt like I was.
I really wanted to enjoy Bush. I never got to see them when I was a teenager drunk on the beautiful angst of their first album, and though I've seen Gavin Rossdale do some of the big Bush hits in his other ventures, it wasn't technically Bush. The crowd, though, did not make enjoying this concert easy. Crammed and sweaty, bumping up against burly former frat boys and their paint-faced lady hanger-ons, finding a comfortable spot to stand and listen without some drunken dialogue being screamed nearby was a task I never did complete. Sadly, these outside factors tainted the otherwise mint performance happening onstage.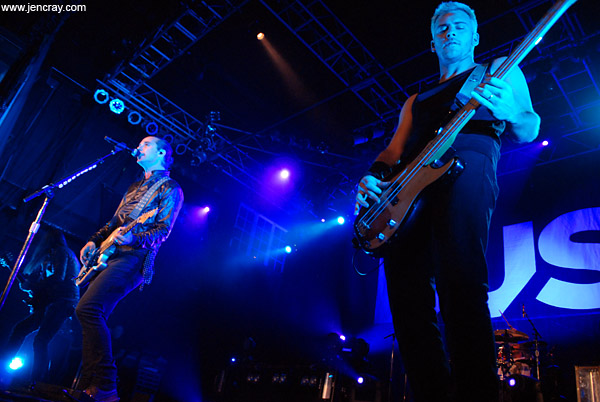 Rossdale's warmly aggressive vocals are still the heart and soul of Bush's sound. Whether they're dishing out "Machinehead" (the hot choice for an opening song), flirting with electronic dance beats on "The Chemicals Between Us," or slowing it down and bringing out a cello as on the brand new "Glycerine" sequel, "All Night Doctors," the charismatic front man holds the room in the cradle of his voice.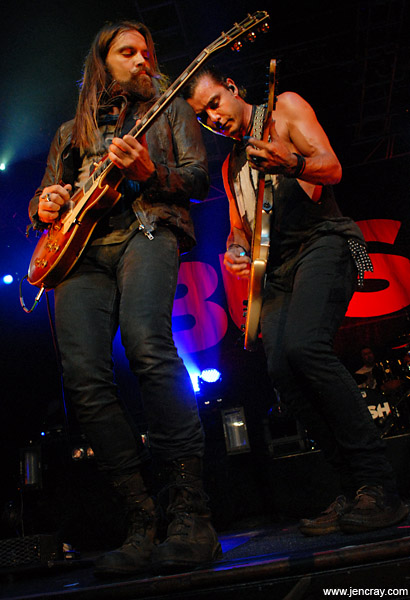 He also teases the hearts in the room with his uninhibited dancing, most particularly during an encore cover of The Beatles' sexiest song, "Come Together," during which he thrust his hips at the adoring ladies in the crowd and set the hearts swooning.
And it wouldn't be a rock show without a little homoerotic singer/lead guitarist ambiguity, now would it? Rossdale and bearded brother Chris Traynor rubbed their guitars up to one another once or twice and, predictably, everyone watching found it oddly titillating. The singer/guitarist dynamic, once again, surpasses sexuality and creates itself as the rock 'n' roll music personified.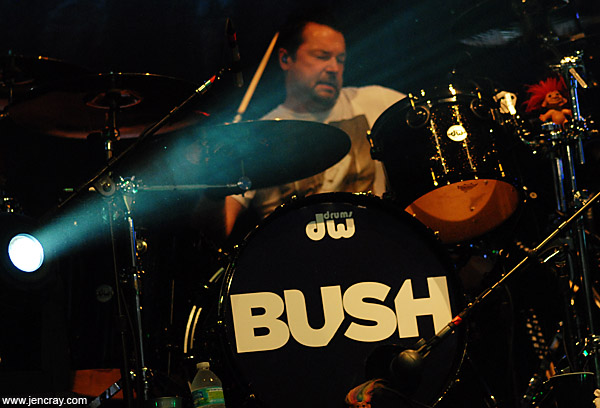 The new songs off of the just released The Sea of Memories may not have had the decades of play time to give them heavy roots, but they did sound amazingly strong considering that the band hasn't put out a record in 10 years. "All My Life" has a soaring guitar line, "The Heart of the Matter" has a bass line almost too simliar to "Comedown," and "The Afterlife" begins like a Raconteurs tune before quickly turning into yet another delicious Bush melody that we're all sure to be humming for years to come. They may not have recreated the wheel with these numbers, but it's still all quite good.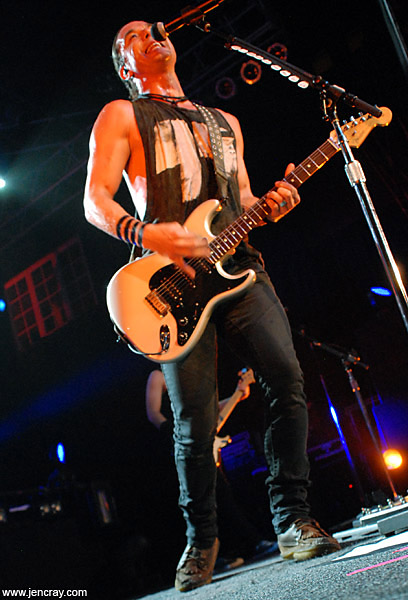 Tying up the night with the strings that started it all, the final three songs (other than the Beatles sidetrack) were "Little Things," "Glycerine," and "Comedown" – much to my, and the now deliriously excited crowd's, delight. Despite all of the shit they were dealt when they first hit the airwaves back in 1995 with "Everything Zen" (which they also played), their songs have certainly proven to be timeless. Take that, naysayers!
Gallery of live shots from this show: Bush • Chevelle • Filter.
Bush: http://www.bushofficial.com • Chevelle: http://www.chevelleinc.com • Filter: http://www.officialfilter.com ◼
---