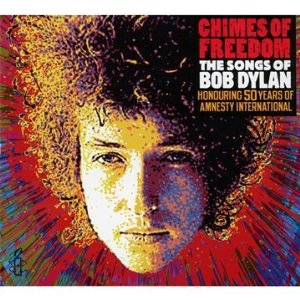 Various Artists
Chimes of Freedom: The Songs of Bob Dylan
Amnesty International
Bob Dylan has to be one of the most covered artists in the world. That is what you get when you've been producing work for so long. So this massive collection of his music – 80 artists on four CDs – for Amnesty International should be a sure thing, right? Well, maybe.
When this record is good – such as with Bettye Lavette on "Most of the Time" or the Carolina Chocolate Drops' take on "Political World" – it's a delight to hear. It takes a lot to "do" a Dylan song. You have to bring something to the table. Remember Hendrix's "All Along the Watchtower"? His soaring electric guitar re-framed our concept of the song, with its sense of aggressive dynamics coupled with the haunting, foreboding lyrics of Dylan. Well, it's a long time past Hendrix, and as this assortment of songs shows all too well, some people ain't getting it. To have Miley Cyrus do "You're Gonna Make Me Lonesome When You Go" is just cruel; she doesn't have the life experience necessary for the song to be believable. Contrast that with Marianne Faithfull's "Baby Let Me Follow You Down" which comes alive in her weary, bluesy voice. You just know the song means something to her, and thus, to us.
The record starts with Johnny Cash featuring the Avett Brothers with "One Too Many Mornings" and along the way you'll find other stellar gems: Dierks Bentley's wistful "Senor" or the understated "Mama, You Been on My Mind" from newcomers We Are Augustines. But to get to it, you have to wade thru corporate snoozefests such as My Chemical Romance's wretched "Desolation Row" or Maroon 5 bleating out "I Shall Be Released." Shudder. Perhaps if the record had been grouped according to genre, it would be more listenable. Putting Steve Earle, Joan Baez, Kris Kristofferson and Pete Seeger together on one disc, perhaps another with Flogging Molly, Joe Perry, and The Gaslight Anthem, maybe that would temper the schizophrenic nature of the collection with a better flow, I don't know. But with so much music, just buy it and support the good work of Amnesty International, then rip to your iPhone and leave off the crap. Because Bob Dylan or not, nobody should be forced to hear Sting's "Girl from the North Country" or Kesha ever again. And here I thought AI was against torture.
Chimes of Freedom: http://amnestyusa.org/chimes
---