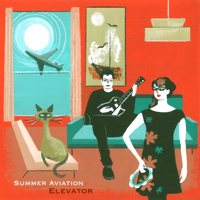 Summer Aviation
Elevator EP
This little Seattle-produced EP takes me back to the AM radio power pop of the Beach Boys and all those Phil Spector bands.
"I Believe in Sunshine" takes a catchy hook and a bright, bubbly male vocal (Kevin Kelly) and threads them together to make the most positive happy hit single vibe of the season. "Magic Night" feels like your first trip to Disneyland and meeting the girl of your dreams all in one evening, right there in the line of "Small, Small World." Lee Kelly leads off "Love So Fine," opening with a smooth and slickly arranged early Sixties potpourri of violins, drums, and dancers in sequins and head feathers. "Trust" is a bit more rocking; a Lynyrd Skynyrd chord tries to escape but doesn't get far, and we are bound and determined to keep this little collection centered on the London sound of the first British invasion.
A fine effort by some fine-sounding people.
---