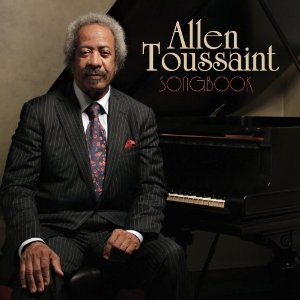 Allen Toussaint
Songbook
Rounder Records
At 75, Allen Toussaint has accomplished more than possibly any other American musician. As a songwriter he's penned such classics as "Working in a Coal Mine," "Fortune Teller," "Get Out My Life, Woman," and "Southern Nights" among many others. He's helped define the New Orleans sound as a producer of such records as The Meter's Fire on the Bayou and Dr. John's In the Right Place and Desitively Bonnaroo. As an arranger he scored the memorable horn arrangements that elevated The Band's Rock of Ages and The Last Waltz. He's an incredible pianist, with a subtle touch that echoes that great New Orleans tradition of funky piano players such as Professor Longhair and James Brooker.
So when Katrina forced him out of his beloved New Orleans he relocated himself to New York and eventually returned to performing, doing solo shows at Joe's Pub, which is where Songbook was recorded. Released as both a CD and a DVD, this is an incredible look at a true Renaissance man. Opening with "It's Raining," his hit for Irma Thomas from 1962, Toussaint delivers a retrospective of his vast talents as a songwriter, singer, and performer. Every cut is classic Toussaint, just him and a piano, and really, you don't need anything else. From his hits such as "Holy Cow" and "Yes We Can" (an early success for The Pointer Sisters) to his version of the traditional New Orleans blues "St. James Infirmary" (which Toussaint covered on his winning jazz record The Bright Mississippi in 2009), it's one brilliant song after another. The set list includes fond looks at New Orleans such as "Shrimp Po Boy, Dressed" and "It's A New Orleans Thing," a smattering of his hits for other artists such as "Mother -In-Law" and "Soul Sister," and you get the feeling that he could continue all night, and wish he had.
Allen Toussaint was awarded the Medal of Honor for the Arts from President Obama in 2013, and if anyone is deserving of such an honor it's he. Toussaint literally helped define that certain New Orleans "something" with his work, creating a vast well of song that other artists from Ernie K. Doe ("Mother-In-Law"), The Yardbirds ("A Certain Girl"), and even Glen Campbell ("Southern Nights") rode to fame and fortune, but in the end, it is us, the listeners, who are rewarded. Songbook shows us this consummate artist in an intimate, relaxed setting where every selection is a dialogue between Toussaint's artistry and the listener's soul. It doesn't get any better.
---