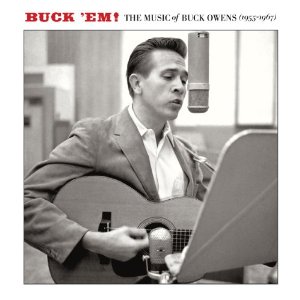 Buck Owens
Buck 'Em!: The Music of Buck Owens (1955-1967)
Omnivore Recordings
If your only recollection of Buck Owens involves him playing a red, white, and blue guitar in the corn-pone country variety show Hee Haw, then you don't know Buck. Buck 'Em! will go a long way toward enlightening those among us who – tragically – don't know the Bakersfield sound. Longtime fans will welcome this two-CD collection with its nearly fifty tracks, including previously unreleased cuts and early takes.
Starting with his early singles on the Pep label ("Down on the Corner of Love," "Hot Dog," and "There Goes My Love"), and continuing with his long string of hits on Capital, this set is one consummate example after another of Owens' classic sound. After meeting guitarist and fiddler Don Rich in the early '60s, the two formed the Buckaroos. They went on to an astonishing 21 number-one singles, all of which were built around Owens' honky-tonk sound, a direct rebuttal to the "Countrypolitian" dreck coming from Nashville at the time. Songs such as "Act Naturally," (a hit for The Beatles in 1965), "Under the Influence of Love," "Together Again," and more led Buck and the Buckaroos to Carnegie Hall and tours in Japan. This was unheard of for country performers of the time period.
Owens' easy going singing style and uncomplicated themes were made for radio and juke boxes. With the dazzling guitar of Don Rich on his Telecaster, they helped create history with what has become known as the "Bakersfield sound." It's a mixture of twin guitars, pedal steel, and fiddle that was bred in the rough and rowdy bars of the California city and has gone on to become a lasting, influential school of country music. It's one that can claim Merle Haggard, Gram Parsons ("Close Up the Honky-Tonks"), Emmylou Harris, and even the Rolling Stones ("Far Away Eyes"), as examples. Dwight Yoakam has made a career of it and coaxed Buck Owens back to performing after he abandoned the stage following Rich's death in 1974.
Owens was a brilliant songwriter, either solo or with luminaries such as Harlan Howard ("I Got a Tiger by the Tail"), or Red Simpson ("Pray Every Day," "We Split the Blanket"). This collection has them all, from the oft-covered classic "Cryin' Time" to the slice of life "Sam's Place." This set further cements Buck Owens as a masterful chronicler of the everyman and one of country's most beloved and celebrated stars. Buck 'Em!, indeed!
---