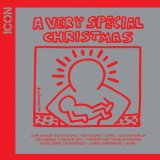 Various Artists
A Very Special Christmas: Icon
Universal Music Enterprises
This year marks the 26th anniversary of A Very Special Christmas and its debut benefiting Special Olympics. To commemorate the occasion, A Very Special Christmas: Icon was released on October 15 through Universal Music Enterprises. It includes material previously recorded and included on prior AVSC offerings, as well as recorded material from other artists featured for the first time.
Founded in 1968 by Eunice Kennedy Shriver, Special Olympics benefits athletes with intellectual disabilities. Iconic producer Jimmy Iovine and his wife Vicki, the driving force behind AVSC, suggested that the proceeds support Special Olympics. Thus, what began as a tribute to Iovine's late father turned into a multi-million dollar fundraising campaign for an extremely worthy cause.
Over the years, I have amassed quite the eclectic collection of Christmas CDs ranging from traditional renditions to modern interpretations. The nostalgic flavors of Bing Crosby and Tony Bennett reside on the CD rack alongside the organized chaos of the Trans-Siberian Orchestra. Christmas music seems to be sneaking its way out of its annual hiatus earlier each year, and I'm certain that this year will be no exception. Even with my extensive stockpile of melodic choices, I still find myself groovin' to the same three compilation CDs during each yuletide season.
Of those three choices, AVSC tops my list hands-down. Released in 1987 as the first of eight records, it includes tracks from a veritable "Who's Who" of the era: Sting, U2, Bon Jovi, The Pretenders, Madonna, Stevie Nicks, Eurythmics, Bryan Adams, Bruce Springsteen, E Street Band, John Cougar Mellencamp, The Pointer Sisters, Whitney Houston, Bob Seger & the Silver Bullet Band, Run-D.M.C, and Alison Moyet of Yaz. EVERY track is stellar, in particular, Houston's soulful "Do You Hear What I Hear?" and Moyet's haunting version of "The Coventry Carol." But it's Sting's "Gabriel's Message" with its multiple vocal overlays, that is the crowning jewel of this collaboration. Sting contributes another track, "I Saw Three Ships," on AVSC Vol. 3.
The new 2013 release falls a bit short of my expectation of "icon" status. With such a vast catalog of material from which to choose, I am dumbfounded by the inclusion of Elvis Presley's "Blue Christmas" and "Last Christmas" from Wham! – undeniably the two worst Christmas ditties ever recorded. The selection of Sting's "Three Ships" over "Gabriel's Message" is dubious at best. Sheryl Crow's version of "Run Rudolph Run" and Tom Petty and the Heartbreakers' "Christmas All Over Again" leave me pondering who gave the green light on icon status. These are undoubtedly fun, but iconic? Not really.
One highlight of the record is a track truly worthy of the icon distinction. It includes the Queen of Soul, Aretha Franklin herself, belting out a jazzed-up yet bluesy version of "Winter Wonderland." It's a far cry from the Eurythmics' light-hearted version on the first AVSC, but just as compelling.
Other noteworthy cuts include the pure, refreshing sounds of Josh Groban and Carrie Underwood as they deliver flawless renditions of "It Came Upon a Midnight Clear" and "Hark! The Herald Angels Sing," respectively. The musical chameleon, Rod Stewart, sneaks his smooth version of "Let It Snow! Let It Snow! Let It Snow!" into this collection from his 2012 release, Merry Christmas, Baby. Jon Bon Jovi's "Please Come Home for Christmas" and the truly iconic "Happy Christmas (War is Over)" from John Lennon and Yoko Ono, accompanied by The Plastic Ono Band with the Harlem Community Choir, round out the collection.
Overall, this is an above-average selection of material that likely would be enjoyed by most people, especially those looking to freshen up their already-extensive array of holiday music. Add to that the appeal of supporting Special Olympics with the purchase, whether for yourself or as a gift, and you have the ingredients for a win-win situation for years to come.
---