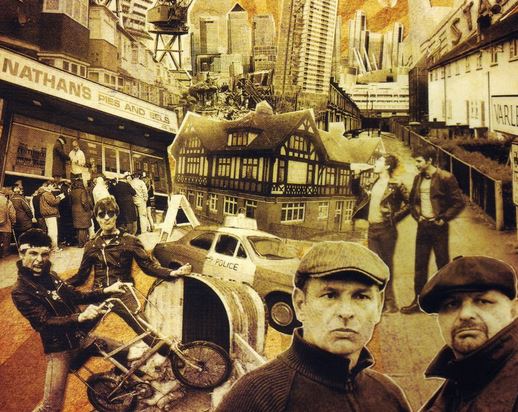 East End Babylon: The Story of the Cockney Rejects
directed by Richard England
Cadiz Music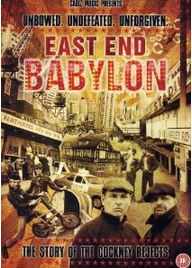 Whether or not you agree with the Big Boys' statement that "Cockney Rejects are the world's greatest band," you'll still find something to like in East End Babylon. This compelling documentary covers both music and the way your home can mold and shape you.
Cockney Rejects are a punk band credited with starting the Oi subgenre. While their older punk brothers were getting arty and experimental, the younger generation was forming simple, powerful bands with catchy, sing-along choruses dealing with more straightforward subjects, like football, police, and fighting.
The band was started by Jeff and Micky Geggus, two brothers from the East End of London, an area that was known for factories and harbors and was hit hard in World War II. It was also known as the origin of cockney rhyming slang and a large number of bank robbers, muggers, and general scrappers.
"It was a shit hole, but it was our shit hole," said Micky Geggus, who added that the only way out was through football, boxing, and rock and roll. The Cockney Rejects combined all three.
Having just formed a band to entertain in the backyard, the brothers were able to bluff their way into Polydor to record a demo with no songs or drummer. Somehow they pulled it off and released the Flares and Slippers/Police Car EP, which, if they had stopped there, would have been legacy enough.
To Americans, it is amazing how young everyone was – we always assumed that British bands were much older. That's why it's so entertaining to watch their second appearance in Top of the Pops. They had gotten into the BBC liquor cabinet beforehand, and we see a group of drunk kids trying to upstage each other with rock kicks, playing on the floor, and mugging for the cameras. There's also a lot of footage of soccer riots which look like they're being led by 12-year-old kids.
Speaking of soccer, the Cockney Rejects were vocal supporters of West Ham, which made them the target of every other soccer club in England. Gigs outside their home turf became excursions into enemy territory with frequent riots and insanely violent fights. In one case, Geggus snuck out of a hospital because rival club supporters were grabbing scalpels and other instruments.
The band eventually called it a day after a string of great, simple punk albums and a few rock albums (which didn't seem to go over too well). There were also pressures from the National Front, rival soccer clubs, management, and record company problems.
The band got a second wind after having a song appear in a Levi's commercial and musicians from Morrissey to Shane McGowen sang their praises. The brothers seem genuinely touched and grateful by the support when they play overseas now, and the documentary ends on an inspiring note.
Mickey Geggus is an entertaining, funny interview. He talks about spending his advance on fireworks, Space Invaders games, and a pair of Doc Martens (he was only 15 at the time of their release), or how he might have to sue his mother after hearing she claimed to come up with the band's name.
Home movies, news clips, and animation convey the story not only of the band, but of the area they came from and still call home. England of the early '80s was a strange, violent place, but the Cockney Rejects were able to reflect that with simple, catchy songs focusing on their surroundings. They were helping others escape, even if just for the duration of a two-minute song.
East End Babylon • [Cockney Rejects](www.cockneyrejects.com)
---