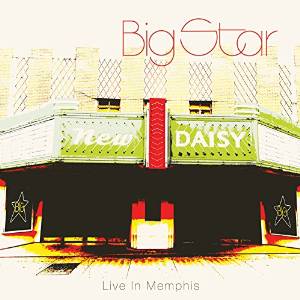 Big Star Live In Memphis
Starring Alex Chilton, Jody Stephens, Jon Auer, Ken Stringfellow
Omnivore Recordings
For a band largely and unjustly ignored during their prime, Big Star has become one of the most cited and admired groups 40 years past their formation. The history of Alex Chilton and Big Star is well documented both on record and in print, but little footage of them live has surfaced. Omnivore's release of Big Star Live In Memphis DVD and adjoining CD/LP goes a long way in righting that. Filmed at the New Daisy Theatre in the bands hometown of Memphis in 1994, this is the only full show that has been found of the band live.
Big Star broke up after 3 albums in 1974. Marred by infighting (which lead to co-founder Chris Bell and bassist Andy Hummel departure before the band's second abum, Radio City), the band hadn't performed together in almost 20 years. Chilton and drummer Jody Stephens were joined by Jon Auer, guitar, and Ken Stringfellow on bass from the Posies, and performed in 1993 at a concert at the University of Missouri. The band then started doing shows, and this concert shows, as Stringfellow remarks in the liner notes, "you might even say we were…a band".
And as the DVD profoundly illustrates, what a band it was. Alex, in his dirty white jacket, starts the evening off with "In The Street" followed by a grinding "Don't Lie To Me", and it's wonderful to witness. Auer and Stringfellow are perfect foils to Chilton, following his lead and taking vocal duties on the Chris Bell numbers such as "I Am The Cosmos". The band is tight, running through Big Star "hits" such as "Back Of A Car", "September Gurls" and "The Ballad Of El Goodo" which show both the strength of the band's writing and the muscle which live performance gives numbers we had previously only heard on record. Chilton cracks his first sly grin during an early cover of The Kinks "Till The End Of The Day", and the set-list is peppered with more- T. Rex's "Baby Strange", Jobim's "The Girl From Ipanema", and Todd Rundgren's "Slut" to end the evening.
But it's the bands original works that truly allow the band to shine. Hearing songs such as "Don't Lie To Me" or "Thank You Friends" come to life on-stage is to behold what alchemists Big Star were, creating a genre– power pop–almost single-handedly from elements as disparate as Simon & Garfunkel to the intricate pop of The Beatles, layered in between Chilton's garage rock/Memphis soul roots. To a multitude of fans around the world, they truly were Big Star(s). Play this thing loud, and you'll understand why.
---