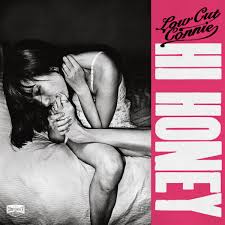 Low Cut Connie
Hi Honey
Contender Records
We should all aspire to have as much fun as the boys in Low Cut Connie seem to have every damn moment of every damn day. If their walloping boozy piano rock wasn't enough to get yr panties in a bunch, their videos are downright thigh slapping in their hilarity and goofiness. Example: the lead off single for their latest release, Hi Honey, is a bluesy boogie called "Shake it Little Tina" that didn't quite sink home to my ears until seeing the delicious visual interpretation that follows viral lord of the dance Adam Carpenter as he shakes his skinny tush anywhere and everywhere. Now I can't get the tune, or the video, out of my head.
At their best, Low Cut Connie sound like a Jerry Lee Lewis that's got access to social media. At their… well, I hesitate to say "worst," so let's just say at their less-to-my-liking, they sound like vintage Elton John, or Randy Newman. This album has a whole lot of their former, but a little more of the latter than I would like.
The "Tina" song I've come to love as much as some of their choicest cuts from their previous release Call Me Sylvia, which is a personal fave. "Dumb Boy," which has a Dirtbombs kind of guitar groove and "Back in School" with it's heavy Jerry Lee Lewis influence, are another pair of pretty perfections. It's "Danny's Outta Money," a compelling lyrical story about how the band's gotta break up because one of the member's is outta money and has to move back home, that just hasn't quite hooked me. "Little Queen of New Orleans" is another one that I feel should grab me, but it just hasn't yet. For the both of these songs I can't get past the Randy Newman feel and, let me tell ya – I really. hate. Randy. Newman.
Still, for it's minor flaws, Hi Honey is a stand-up record and Low Cut Connie remain a band that's doing all the right things for all the right reasons and having a great time doing it. Man, I'd love to have a beer with those guys!
---