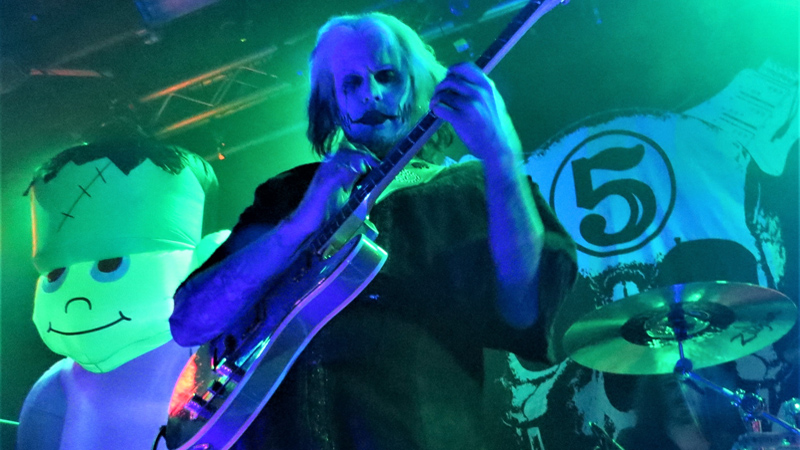 John 5 and the Creatures
The Social; Orlando, FL • February 1, 2018
by Christopher Long
Anyone who perceives the glorious day of the "guitar god" as belonging to a bygone era clearly hasn't received the memo regarding John 5. Take a scoop of down-home chicken pickin' precision, mix it feverishly with a heaping portion of arena rock-caliber panache and then slather it all with healthy layers of slasher flick-inspired imagery, and you'll soon understand why this musical sideman is a mightier force than the marquee frontmen he's been hired to accompany over the last 20+ years – an iconic "Who's Who" of rock, including the likes of Rob Halford, David Lee Roth, Marilyn Manson and Rob Zombie. And in support of his latest solo effort, the renown virtuoso kicked off his 43-city It's Alive! U.S. concert tour recently at downtown Orlando's famed nightspot, The Social.
By 7pm, the ferocity of the lengthy guitar-driven soundcheck had buzzed through the venue's walls sporadically for more than an hour – as pre-show meet-and-greet VIPs were ushered inside randomly by professional tour assistants displaying official All-Access laminate credentials. By 8pm, a team of beefy-looking dudes sporting tight-fitting yellow security shirts had assembled and taken their positions just outside the venue's entrance. And in short order, chilly, eager fans were filing in, seeking out their preferred perches for the evening's performance.
The ominous sound of classic Black Sabbath tracks filled the air, while enormous, monster-type props filled the stage. Even the sandwich board sign outside the venue read, HAPPY HALLOWEEN – John 5 + the Creatures – Live Tonight!
A beautiful, pre-recorded intro of "Johnny Guitar" by the incomparable, late jazz songstress, Peggy Lee, began dripping from the Social's sound system promptly at 9pm, just as bassist Ian Ross and drummer Logan Miles Nix took the stage. And with a crash of the cymbals, accompanied by a single booming bass note, and amid a barrage of lightning-speed, six-string noodling, the larger than life guitar slinger appeared suddenly – front and center.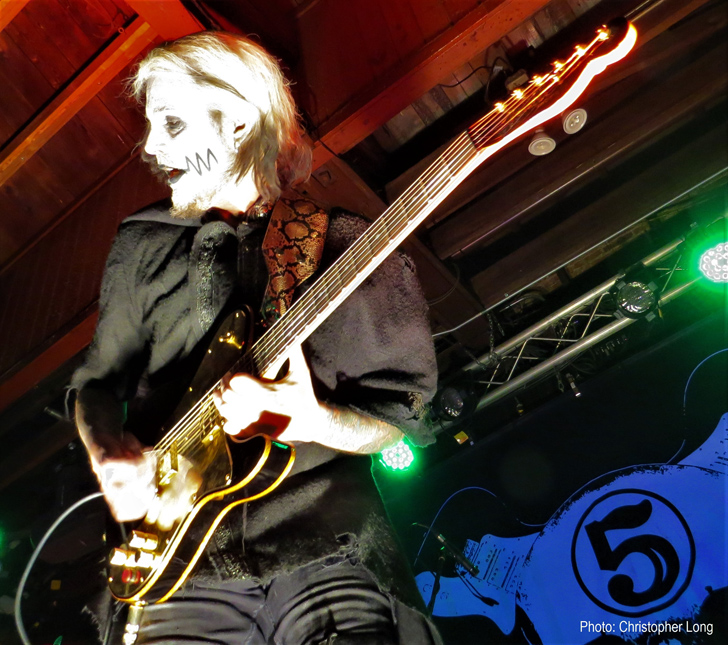 Donning the coolest in goth-style, modern-rock fashions, John 5 was, no doubt, dressed to impress – all in head-to-toe black denim, leather and velvet, as he brandished the first of his MANY prized Fender Telecaster guitars.
Like a lovable yellow Labrador after an unwelcome bath, the acclaimed ace shook his head uncontrollably from side to side, nearly non-stop, and never missed a note, as white powder fell from his shaggy blond, razor-cut coif with the fury of a flurry.
Brimming with joyful energy, the 46-year-old axeman was animated, playful and silly, as he mugged for the cameras throughout the 75-minute set. His signature-style Ace Frehley-meets-Amanda Palmer make-up dripped down the sides of his face and pools of drool dropped from the sides of his mouth – all while unpacking savory selections from his just-released live set – from skull-crushers including "This is My Rifle" and "Making Monsters" to the crisp-n-clean pickin' of "Jiffy Jam," "Behind the Nut Love" and "Hell Haw" to the super-shredfest standouts "Black Grass Plague" and "Here's to the Crazy Ones."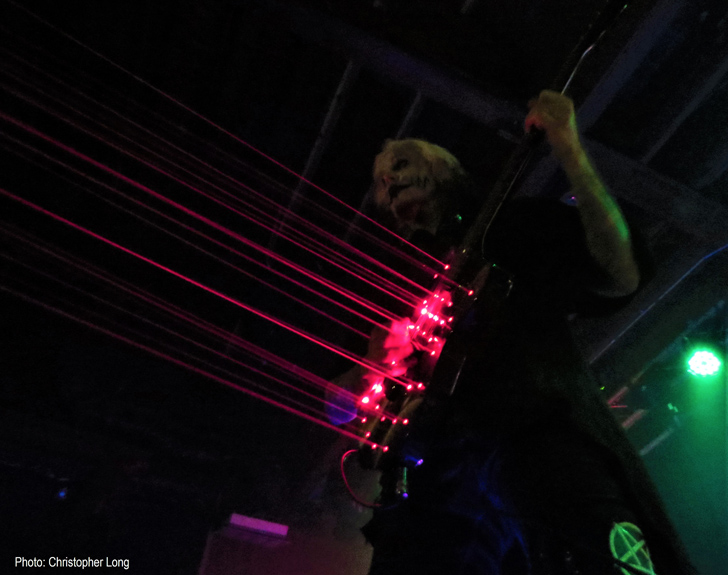 As with his 2017 record, Season of the Witch, each song segued seamlessly into the next, via eerie-sounding, retro horror film soundbites. However, in the live concert setting, there was also the (arguably) added bonus of ghoulish onstage characters and clips from classic horror flicks projecting throughout the show from two on-stage video screens.
The entire troupe was absolutely masterful – playing more precisely than most people can even think. For his part, J5 slayed 'em all – big guitars, little guitars, banjos too. And he wowed the faithful further when attacking an oil-filled, clear acrylic Telecaster with a violin bow, a la Jimmy Page. But he "closed" the deal with a unique, retina-searing, multi laser-shooting Telecaster. Truly impressive.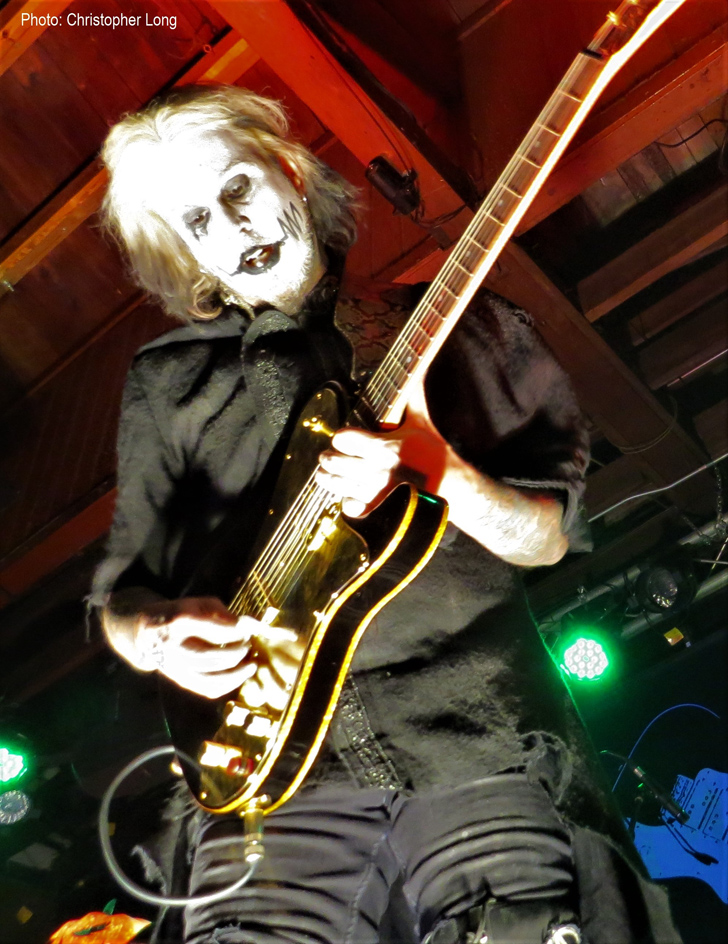 Despite performing all instrumental compositions, J5 did share a bit of in-between-song commentary, for instance, recounting his visit to the "vault" earlier in the day at Orlando's Hard Rock, where he played vintage guitars owned previously by the likes of Jimi Hendrix and Paul Stanley.
But the chit chat was minimal, as John 5 let the music do the talking – delighting diehards with a 10-minute cover tune medley featuring classic snippets from Van Halen, Ted Nugent, KISS, Pantera, Slayer, Alice in Chains, Rage Against the Machine, The Police, Marilyn Manson, White Zombie and Rush. Whipping fans into a further frenzy, John 5 wrapped up the set with a doozie of an encore – a rather unexpected remake of Michael Jackson's "Beat It." And the crowd goes wild!
www.facebook.com/John5official
www.twitter.com/john5guitarist
www.instagram.com/john5official
◼
---