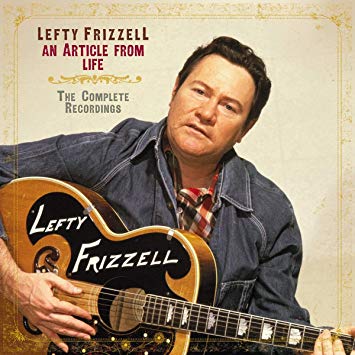 Lefty Frizzell
An Article From Life: The Complete Recordings
Bear Family Productions
There was a time when giants walked the earth. They had names like Hank Williams, Johnny Cash…and Lefty Frizzell. Born William Orville Frizzell in 1928 in Arkansas, Lefty helped create an uniquely American art form – country and western music, and his vast impact is felt on every honky-tonk stage and jukebox. The songs he wrote or popularized form the basis of "classic country" and have been recorded by thousands, ranging from Dwight Yoakam – "Always Late With Your Kisses" or Merle Haggard with "I Want To Be With You Always". Willie Nelson recorded an entire album of Frizzell – 1977's To Lefty From Willie and The Band's remarkable reinvention of Frizzell's 1959 hit "The Long Black Veil" on Music From Big Pink introduced many (including myself) to a previously unheard genre – one that Frizzell helped create.
His first two singles – 1950's "If You've Got The Money (I've Got The Time)" and "I Love You A Thousand Ways" launched Frizzell's career, and until his death in 1975 Lefty continued to write and record, and this lavish Bear Family box set contains everything he released, and some – including demos and transcription recordings – that he didn't. Weighing in (and I do mean weigh, the set is around 20 pounds) with 361 tracks and a 250+ hardback book, this is the definitive collection of a country music "founding father".
Frizzell was a Jimmie Rodgers fan from early on (and recorded many of his songs), and while he wasn't quite able to yodel as well as Rodgers, his way of singing – including his knack of dropping down the last syllable in a phrase an octave and then returning back – has influenced everyone who sings country. One can't imagine the classic honky-tonker, the late Keith Whitley (who had a hit with Lefty's "I Never Go Around Mirrors") sounding as he did without growing up listening to Frizzell's records, and Merle Haggard acknowledges Frizzell as "the one who taught us all to sing".
In addition to everything Lefty released, the box set includes I Love You A Thousand Ways: The Lefty Frizzell Story, written by Lefty's brother (and country music star on his own) David in audio book form. An Article From Life, by Charles Wolfe with updates from Daniel Cooper and Kevin Coffey has been expanded from it's previous inclusion in other Bear Family sets. It gives you Frizzell's life and times – hard knocks and all, along with rarely seen pictures and memorabilia that documents his phenomenal achievements, as well as showing the rise of country music from Nashville to the West coast.
Clocking in at over 857 minutes, this is not something you can absorb in a weekend, but the depth of material of one of country music's icons shouldn't be rushed, but rather savored over a lifetime. Lefty Frizzell helped create country music, and in doing so crafted a bit of America's DNA. One can't imagine popular culture without his contributions, and thanks to the Bear Family and An Article From Life, you won't have to. Without a doubt, an essential chronicle of history.
---