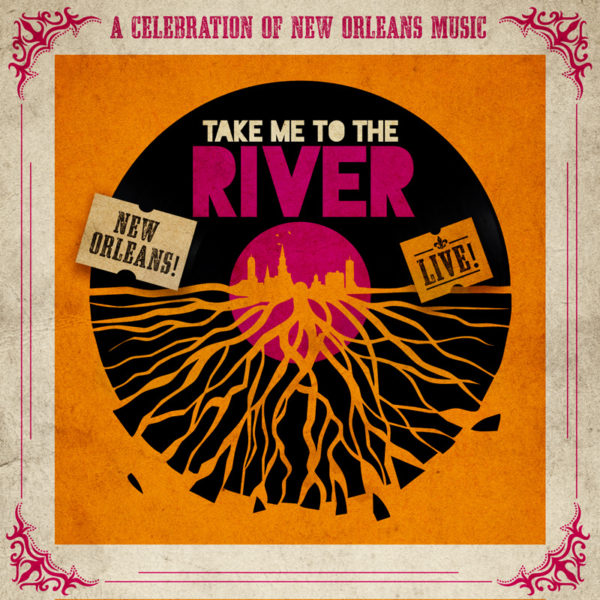 Take Me to the River
New Orleans
Petaluma Records
Take Me to the River: New Orleans is the soundtrack to director Martin Shore's film, the sequel to his documentary on Memphis. Shore's thesis is that Memphis told the American music story while New Orleans created the concept of World Music. The unique sound and spirit of New Orleans' music grew from the melding of musical traditions from the Caribbean, Africa, Europe, and everywhere else. I really wish I could have reviewed this soundtrack alongside the movie, because it sounds like a must-see documentary. The music will have to satisfy for now.
What sets Take Me to the River apart from other excellent compilations of New Orleans music is the collaborative nature of the performances. The director paired legendary performers like Irma Thomas, Donald Harrison, and Aaron Neville with younger performers. Some of the pairings, like Aaron Neville with the Dirty Dozen Brass Band, are the sort of thing you see at Jazz Fest all the time. Actually, you'd probably see Donald Harrison playing with the Tipitina's Interns at Jazz Fest, too. The album captures the joy you hear when musicians are having fun and inspiring each other.
I love the energy on "504 Enjoy Yourself," featuring the Soul Rebels and 5th Ward Weebie. "Act Like U Know" brings together bounce stars Dee-1, Mannie Fresh, and Big Freedia with jazz funksters Galactic. Another cool collab is the version of "Yes We Can Can" featuring William Bell with Snoop Dogg and G Easy. The Lost Bayou Ramblers team up with Ani DiFranco to represent the Cajun sounds. Take Me To The River: New Orleans also has two of the final studio sessions from the dearly missed Dr. John. I can't wait to see the documentary, Take Me To The River: New Orleans. Until then, this soundtrack is a damn fine representation of the irrepressible spirit of New Orleans musicians.
---