Saxophone Colossus: Sonny Rollins
directed by Robert Mugge
Acorn Media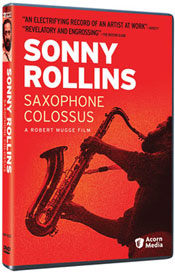 After directing several impressive music documentaries, including the previously reviewed Gospel According to Al Green, Robert Mugge was looking for a new project, a film that would explore improvisation in music. In 1986, he found his subject with Saxophone Colossus: Sonny Rollins, creating a fascinating documentary on the tenor sax player that, like the Al Green documentary before it, can be enjoyed by viewers unfamiliar with the music.
Mugge expertly blends footage of a 1986 concert in New York with interviews with Rollins, his wife and several jazz critics, along with a 1963 clip of "The Bridge." The interviews sketch out Rollins' life and his impact in jazz, as well as his relentless drive to improve his playing. The stories of Rollins famously retiring from the jazz scene in 1959 for three years and practicing under the Williamsburg Bridge in Brooklyn are discussed, as well as stories of Rollins jumping offstage and breaking his heel yet continuing to play.
The clips of the 1986 New York concert showcase Rollins' long sustained notes and talent for improvisation. These are intercut with Rollins travelling to Japan to perform his "Concerto for Tenor Sax and Orchestra," along with Japanese scenes and Rollins speaking about his life and craft. Considering that Rollins had been playing professionally since about 1948, it is astonishing to hear him say, "I still feel I'm a developing musician. So far as I'm concerned, I'm still proving it to myself all the time but it feels good when I don't have to prove it to audiences."
For anyone remotely interested in Sonny Rollins, jazz, or the art of improvisation, Saxophone Colossus is not to be missed.
Acorn: http://www.acornmedia.com
---