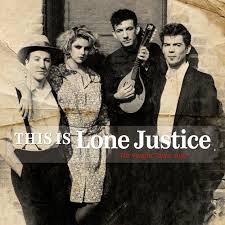 Lone Justice
This Is Lone Justice: The Vaught Tapes, 1983
Omnivore
HOLY HELL!
Not to go too far down the hyperbole highway or anything, but this previously unheard document from alt-country darlings Lone Justice is akin to discovering an unseen Hemingway novel. Cut live to two-track (no overdubs) in Los Angeles in 1983, this blows the band's two major label releases (1985's debut, and Shelter from 1986) away. Engineer David Vaught's technique – basically, capturing the band's live set to tape – shows the band's genius in all their twangy glory… and glorious it is.
Lone Justice was one of the first acts to bridge the gap between old-time country and rock back in the early days of "alt-county" or "cowpunk", and while many acts came along after – The Knitters, Freakwater, Uncle Tupelo, et al – none had anyone close to vocalist Maria McKee. That voice has never been equaled. I saw the band open up for U2 in a cavernous hockey arena, and despite the poor acoustics and horrid sound mix, McKee's voice threatened the very walls of the room, and her energetic determination would raise the dead.
The 12 cuts here are essentially the band's live set, split between reverent covers of Merle Haggard ("Working Man's Blues"), and Johnny Cash and June Carter's "Jackson", coupled with originals that would end up on later releases such as "Soap, Soup and Salvation" and "The Grapes of Wrath". This is not the boutique country flavorings we've become accustomed to hearing ad nauseum from CMT or cable TV, where you add a steel guitar or a fiddle to a pop song, put on a Stetson and call it "country." No, this is the real deal, unashamedly twangy, with the guitar of Ryan Hedgecock paying homage to Don Rich and those great Texas pickers of 1970's country. Stripped of the often grandiose production of Jimmy Iovine that plagued their major releases, This Is Lone Justice is pure, heartbreaking country. Take a listen to the opening track, the George Jones/Roger Miller song "Nothing Can Stop My Loving You". McKee's breathless delivery sounds completely natural – close your eyes and it's a honky-tonk somewhere in Bakersfield, circa 1963.
When the record ends with "This World Is Not My Home" you recognize the sheer brilliance of Lone Justice, pioneers of a sound, both traditional and modern, that many would adopt in later years. But nobody had Maria McKee and that voice. Groundbreaking and without equal, Lone Justice was never better then on This Is Lone Justice. Essential.
Omnivore Recordings: http://www.omnivorerecordings.com
---