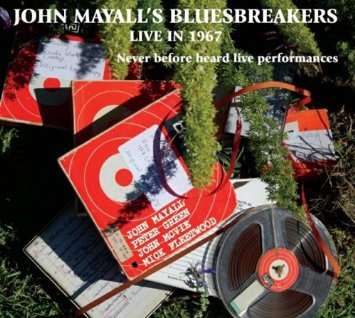 John Mayall's Bluesbreakers
Live in 1967
Forty Below Records
In the late 1960s, John Mayall ran a finishing school for British blues guitarists known as "The Bluesbreakers". Formed in 1963, the group became famous during the tenure of Eric Clapton, starting in 1965. Their debut album, known as Beano prompted fans to write "Clapton is God" on London walls, and for those who only know Slowhand from his later, more sedate days owe themselves a listen.
And while you're at it, give Live in 1967 a spin. When Clapton left Mayall to form Cream, his replacement was Peter Green, and his fluid, melodic playing wasn't as dynamic as Clapton's, but it was surely its equal in sheer tonal beauty. The 13 cuts on this compilation find Green, Mayall, bassist John McVie and Mick Fleetwood completely on fire in small English clubs, with Green's strong guitar melting the crowd. You can almost hear sweat dripping off the walls as they power thru Otis Rush's "All Your Love" or "Have You Ever Loved A Woman", Mayall's harmonica blasting. The rhythm section of McVie and Fleetwood (who Green would poach shortly after to form Fleetwood Mac) are rock steady, the equal of any southside Chicago band at the time.
Green was fond of Freddie King (and who wouldn't be?), and they perform 3 of the Texas guitar slingers tunes here- "The Stumble", "Someday After Awhile" and a sizzling "San-Ho-Zay". Green used the instrumentals as a starting point for some incredible runs of solo guitar magic, (check out "The Stumble…mercy!). John Mayall is still in the business with the Bluesbreakers, having brought Clapton, Green, Mick Taylor (who replaced Green until Taylor left to join the Stones), Walter Trout and more into world-wide acclaim, and fostering a blues scene in the U.K. that proved monumental in the development of the genre from the '60s on. This is some primeval shit right here, and we're glad that some listener thought to bootleg these shows back in 1967. And now, in 2015, you'd find it difficult to top the performances found here. Peter Green and the Bluesbreakers were the preeminent blues band of the day, and Live In 1967 gives you ample reasons why. Good and greasy, the way the blues should be. It don't get no better than this.
---