Peter Murphy
Ali Eskandrian
Freebirds Live, Jacksonville FL • July 4th (har har)
Matthew Moyer
First things first. Instead of dwelling on the attendant surreality, I will say that, yes, I saw Peter Murphy on the fourth of July on goddamn Jacksonville Beach, which was a potent cross between Mardi Gras and Apocalypse Now and 1000 assholes that particular evening, and it was wayyyy fucking surreal. But enough about that, we're here to talk about truth and beauty and love of art, and if the outside world didn't seem to bother the largish enraptured crowd that night, well, I'll block it out too.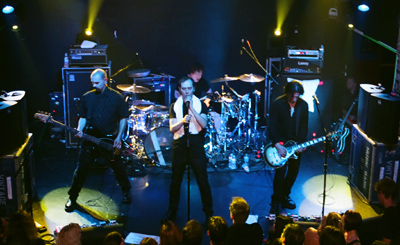 Do you want to hear about some more strange bedfellows? Okay, good. Let me tell you about Ali Eskandrian. He's Peter Murphy's opening act – from his CD you grok that he's a rather earnest singer-songwriter from New York and seems to be doing a Bob Dylan circa John Wesley Harding sorta thing (both visually and sonically) with a bit of Eastern fuh-lair and it's like, "Ahhh Peter did always have an affection for exotic pop flavours," so maybe you expect to be cloyed and clap politely even.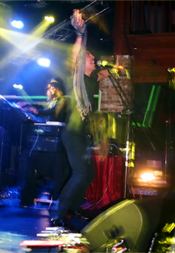 But what the FUCK do you do when out struts this stick-insect sex alien clad in leather, Beatle boots, tiiiiiiiight jeans, and a scarf used more as a noose, with a tangled, electrified afro – he looks like a cross between Alan Vega and Prince – and he starts theatrically stomping the floorboards like a flamenco dancer while this skinny dude behind him with long hair and an unseasonably heavy coat starts wreaking havoc on a cluster of analogue synths? You immediately scream like a girl and fall in love, that's what you do. If you're smart that is, if you know what cool is, that is. He seems to neatly divide the audience – the only tidy thing about his performance, mind you. Ali Eskandrian is one of the most sexual performers (alongside the Kills) that I've encountered in a long time. He stomps his Beatle boots like Valentino, twists his scarf around and around like it's either a weapon or all seven of those pesky veils and those hips, my god, those hips – he thrusts them to accentuate lyrics or a soaring wail or a particularly gritty riff. Monocles were falling in gentlemen's drinks everywhere you looked. His voice was an unearthly wail, an Eastern-influenced cry like an amped-up Lisa Gerrard, a banshee like Diamanda Galas, a snotty prophet of doom like Tom Verlaine. The set itself was a too-short blur of raw alien blues and pounding Suicide death-funk (introducing their last number as "a New York song" as a ratty drum machine clicked away, do they know what they're doing to me?). Eskandrian picked up a guitar and churned out primitive riffs while his compatriot wreaked havoc on a tiny theremin. Eskandrian bent backwards like Iggy Pop to sing along with his synth player. Later they rewrote Frankie Teardrop as a PTSD vet named Johnny. The set ends with the keyboard player lost behind a wall of noise and Eskandrian on all fours screaming into his guitar amp. Peter's taught this guy the biz, for sure.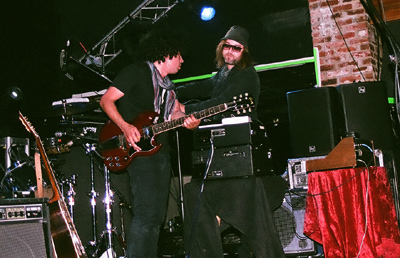 Seeing Peter Murphy stride imperiously onstage, the very definition of fighting fit, slim and trim in a leather jacket, shades and tight blue jeans, you get a jolt, along with a momentary leap of the heart that maybe you'll look that good at the age of fifty. Similar to seeing a recent Morrissey show when he came out swinging, and you're like, "Whew, there is some hope." He strikes up a funeral version of new Bauhaus track "Zikir" which shows his voice in fine, rich form, but that's only to be a quick prelude before the jacket is doffed, his backing band (including ex-members of the Mission and Human Waste Project, one tight unit, it has to be said) stride onstage and they get down to the business of ripping through the greatest moments of his solo catalogue, with some Bauhaus thrown in for darker thrills.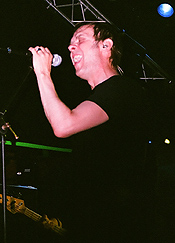 It's heartening to see that Murphy, though bereft of the black hair and baroque/glam costumes of the Bauhaus Resurrection tour, still brings the theatrics and stage moves in spades. So, don't worry everyone, he did the vampire bat, the crucifix, the strut with one arm cocked on hip (à la Jagger/Ziggy), the AIRPLANE SPIN, the cold stare, the imperious point, the wave, the "give me your hands," the "lost in music" arm undulations, the pogo, and some super melodica action on "She's In Parties" (one tends to forget the dub influence in Bauhaus, a pity).
For a performer of his age and stature and responsibilities, shall we say, the setlist is quite surprising. The "Retrospective" tag slapped on this tour is in many ways a red herring; as Murphy looks back, he continually gets tripped up on the very recent unfinished business in every note of Bauhaus' swan song, Go Away White. Thus several songs of those songs get a live airing and his band seems to be in seventh heaven playing them – particularly the guitar player, but then Daniel Ash's guitar parts always looked so fun to play!
This sense of play extends to the way that he treats his back catalog. He has fun with it, he twists it and reshapes it, treating it as a living, breathing thing instead of a grouping of static "classics." Fittingly for a retrospective tour, he sneaks bits and pieces of Bauhaus songs and covers of material that he loved as an angry young man into odd junctures of his set. The first couple of verses of "Bela Lugosi's Dead" are changed to a delicate acoustic piece while Bowie's "Be My Wife" is melded with "Adrenaline." Not to mention that the final encore is a celebratory and rousing cover of Joy Division's "Transmission," complete with Murphy just owning the final lines of "…And we could daaaaaaaaaance!" while busting into the Ian Curtis dance.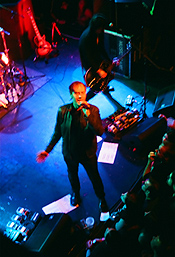 And that's the thing, he makes every show seem like a once-in-a-lifetime, arena event. He's got some sort of telepathic connection with the crowd, followed by an uncanny flair for the dramatic. Ahhh, and a constant desire to push out of his own comfort zone and play with his persona in ways other performers/frontmen of note wouldn't dare. Hence, he offers to do a question-and-answer session with the crowd – which yields no questions, but inexplicably gets the crowd riled up. During the midst of his banter, someone (just as inexplicably) yells, "Go Home!," to which he replies without a moment of hesitation, "Fuck off, you go home. I'm perfectly comfortable right where I am. Fucker." The crowd roars! They also roar with approval when he does his Englishman abroad bit, acknowledging the bizzaro-ness of playing a concert on the Fourth of July, by formally decreeing that he, on behalf of England, is reclaiming the United States of America, because we've made too much of a shambles of everything. Hey, maybe he even slips in a subtle plug for Obama, he does whatever he wants. And that includes hushing the crowd regally when they start chattering during a fragile acoustic intro. He says he'll wait, and then flashes everyone the Bauhaus stare. They shut the fuck up…
…and are rewarded by Murphy launching into an unbelievably sad and dramatic cover of NIN/Johnny Cash's "Hurt." Just, I think, to show that he's as much of a voice as he is a face. It's a barnburner, man, to hear his rich and deep baritone cut through those lines. Jee-zuz, and the band's arrangement is very sensitive and spare to boot. The voice gets stronger and more nuanced as the years pass. Bring on the covers album, that's how I want Peter Murphy to end up!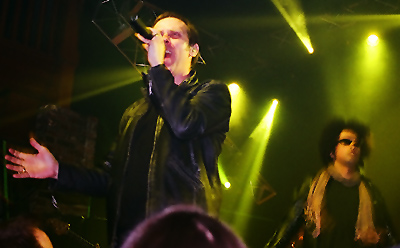 He's like Neil Diamond crossed with David Bowie and Christopher Lee – a shameless entertainer with a heart of darkness. Murphy has the crowd in the palm of his hand from the word go – it's not even nostalgia, the man's working his ass off but making it look so effortless – it's like a frontman masterclass that the likes of Brandon Flowers, Brett Anderson (saw a lot of that), Justin Warfield, and Faris Rotter are still cribbing from. Don't like his songs? Live, you will love his songs, he tirelessly makes certain of it. You just get so caught up in the wire-tense but joyous moment, and y'know, that's what pop music is all about.
You dismiss Peter Murphy as a goth oddity at your own peril; the man is a fearsome performer, who can go toe-to-toe with frontmen half his age, and a superlative singer, an interpreter of song, in the best, most empathetic sense of the word. He loves you all. Goodnight.
Peter Murphy: http://www.petermurphy.info ◼
---