Gaby Moreno
Still the Unknown
S.D. Green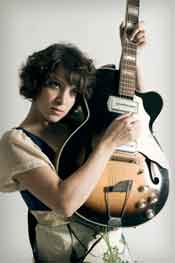 With her easy charm, soulful voice, and love of traveling, Gaby Moreno is well-armed to make something of her debut album Still the Unknown. Inspired by the great blues and soul of a bygone era, Still the Unknown is an album made by the best of friends [drummer Sebastian Aymann is her husband; bassist Leslie Lowe her closest bud] in one day in the cozy confines of a California living room. Despite the quaint setting, Moreno's expansive talent has the album skipping effortlessly from upbeat slinky tunes like "Greenhorne Man" to a version of the Spanish traditional "Amapola" featuring indie vet David Garza. Moreno's guitar bursts with full-bodied chords while her seductive vocals recall Fiona Apple and Nora Jones, remaining understated and direct. By the time you get to the ethereal and heart-tugging "Since You Came Along," you're buoyed atop a tinkling bed of vibraphone and haunting vocal and floating off into a dream. Ink 19 caught up with Moreno on her recent tour with Ani DiFranco to talk about life on the road, her surprise involvement with TV's Parks & Recreation, and upcoming projects with her band and Van Dyke Parks.
How's the tour going?
Playing in these beautiful theaters, it's great. The driving… I really enjoy it, actually. You go through these beautiful towns, see different cities. It's just a beautiful experience.
You're touring with Ani Di Franco and you toured with Tracy Chapman last year. What have you learned by touring with such seasoned artists?
It's a bit more hard work. I've learned to be more organized with things. Especially because I have to go out on my own. It's been like that for these last two tours… I've been doing it on my own. I have to book all the hotels and do all these things that before I had never done, and the multi-tasking…
At one point you were signed to Jive. Your debut album is self-released?
Yeah. We recorded it with some friends of ours at their house. It was independent without any help from any label at all.
Do you feel liberated from some of the non-musical things that go on at a major label?
Absolutely. I don't think I'd be able to make this record if I had been at a major label. [Being independent] you have way more creative control. You don't have an A&R behind you scrutinizing every one of your songs. It's more like you go with your guts, what you think is right. That's what it should be like. Labels have their own agenda. They want to try to mold you into something and steer you in a certain direction. That's something I was really happy to do without any label.
When you don't have a big record label behind you does touring become more important?
Yeah, I think that's crucial. That's how they're going to hear about you. Unless you're lucky and get your music in a commercial or a TV show – that's what they're calling the new radio, you know? For us, I think the most important thing is to tour.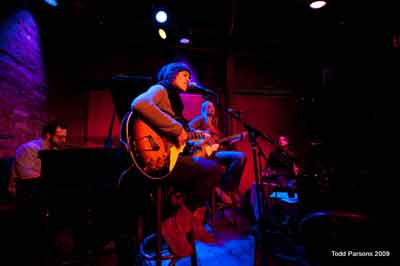 Speaking of TV, you wrote the theme song for the sitcom Parks and Recreation. How did that come about?
I just received an email from my manager saying they were looking for the theme song for that show and they sent us a description of the show and I just gave it a shot. Grabbed my guitar and wrote a little intro in 5-10 minutes and I took it to my friend [Vincent Jones] cause I just wanted it to sound more orchestral. He had all these great sounds with his keyboard and we submitted it. Then a week later I got a call from my manager saying, "Hey, you made it to the semi-finals." A few days after that I got a message saying "OK, we chose yours." I was in shock.
How long have you been working on the album?
The whole recording process took a few days. Some songs were older, written four or five years ago and some of the songs I had written that year. The recording process was so, so easy. We just got together in the living room and played it live, it was like recording a little live concert. I was playing and singing at the same time. Then later we did some overdubs. We invited some friends over to come and play some other instruments. It was just very organic. I had been wanting to do a record forever but I never got the chance, you know, because I was with all these labels and it was not happening. Then they would make me write with a bunch of different producers. Then the songs would be all over the place because they had me working with all these different producers. Finally this friend of ours, Jay Bellerose [noted drummer/percussionist who's played with Robert Plant & Allison Krause and B.B. King], we just decided he's going to produce [the songs] and it's all going to have one coherent sound.
What are your musical inspirations?
As far as artists go, it has always been Nina Simone. I love her. Also I've been listening a lot to old Latin American music, like, I've listening to this trio called Trio Los Panchos, and I also love The Beatles, you know?
You have a love and interest in blues and music from other eras. Do you think you would have enjoyed the experience of making your debut record 50 years ago with the equipment they had back then?
Oh yes, yes, absolutely!
What would the experience be like making this album back then?
It would have been nice to be in one of those old studios back then, like the Capitol Studios but I think the process would have been pretty similar. Just having fun and getting in a room and playing live. I would love to have a string section or horn section you know, all live, and obviously analog, cause that's how they did it back then. We did Still the Unknown digitally.
Recording live with one mic in the middle of the room definitely has a unique vibe. It makes the music feel like one whole piece and not a puzzle where the pieces are put together afterward.
Right. Like, "Here's a guitar track, now sing to this." It shouldn't be that way. That's why I like it cause what you're hearing on the record you'll hear it live. There are no surprises there.
A lot of the songs on your album are in English but a couple of the songs are in Spanish. Is the songwriting process different for you when you write in Spanish?
Not really. When I think about the music I decide right on the spot [whether it's going to be in Spanish or English]. What I don't do is write in Spanish and do a translation into English. I don't really like that. If I'm writing about social matter or political matter… I've done that more in English. In Spanish I tend to get a bit more poetic because it's my mother language, I understand it better, and I think I have a more extensive vocabulary in Spanish. What I love so much is when I'm playing live, if I'm singing in Spanish, the American audiences respond to it and they really seem to enjoy [it] even though they don't understand what the words are. Something about the music moves them.
What plans do you have for future albums?
We're hoping to get our second album by this year, some time in the fall. I'm also going to be going to Europe to do some shows over there. That's what keeps us going. When we get out on the road and bring the music to the people.
I'm also trying to do a record of old Latin American music with this great composer/arranger Van Dyke Parks. He's amazing. He's done work for the Beach Boys and Bob Dylan. He just recorded a song with Ringo Starr for his latest album. He's an unbelievable man and he really loves the old Latin American music so together we're going to try to get cracking on that sometime, I don't know… late this year.
How did you make the connection with Van Dyke Parks?
I was playing some shows in L.A. at this club called Largo with my friend David Piltch – also an incredible upright bass player. He has played with Van Dyke Parks before. He invited him to one of the shows and Van Dyke sat in.
How are you going to go about choosing what songs to do on that album?
It's already been in the process for a year. We've been trying to decide which songs. We wanted a bolero, a tango, and bossa nova… just to go through all the different styles that Latin America offers. There are about twelve songs that we're going to do and maybe a live concert to go with it. We are hoping to have a live string section and even some Latin players.
New album with your band. Same way, same producer?
Maybe this time instead of recording it in his house we'll record it with Ryan Freeland. He's the guy who mixed the record. He does Joe Henry… he's a great musician himself so we may actually record the album with him and have him mix it.
Are there any new sounds you're interested in since the last one?
Some of the new songs just have more rhythm [to them]. A lot of songs on the first record are a bit slower, there are more ballads, so I think on this one we're just going to step it up a notch and do more of the old soul.
Your tour wraps up on February 8. What's been the best part about traveling this time out?
Maine is just the most gorgeous state. I've never seen snow on the beach and that is so exciting. We went to this beach called Old Orchard Beach and we just ran around in the snow and it was so much fun.We are really excited about every place that we're going to, taking it all in and enjoying the ride. It's just like a fun road trip, plus we get to play. How cool is that?
Gaby Moreno: http://www.gaby-moreno.com ◼
---